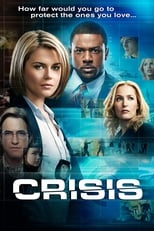 General Information
Glossary: C
First Air Date: March 16th, 2014
Last Air Date: June 21st, 2014
Created By: Rand Ravich
Star Casts: Dermot Mulroney, Rachael Taylor, Lance Gross, James Lafferty, Max Martini, Michael Beach, Stevie Lynn Jones, Halston Sage, Max Schneider, Joshua Erenberg, Gillian Anderson
Aired On: NBC
Episode Runtime: 60 minutes
Total Seasons: 1 Season
Total Episodes: 13 Episodes
Type: Scripted
Status: Canceled
Homepage: NBC - Crisis

Last Updated: Wed, 11 Aug 2021 22:32:10 +0000
Sponsored Links
Ratings
User Rating:
Backdrops Gallery (2 Images)
Crisis
When Washington's most powerful players are pulled into an international conspiracy, an unlikely puppeteer will bring everyone from CEOs to The President of the United States to their knees by threatening the things they hold most dear.
Seasons and Episodes
Specials (1 Episode)
1: School Trip Stressin'
In this series prequel, best friends Ian and Beth Ann prepare for a fateful field trip.
Season 1 (13 Episodes)
1: Pilot - Aired: 2014-03-16
It's field trip day for the students of Ballard High School, a place that educates the children of Washington, D.C.'s elite: top-of-their-industry CEOs, international diplomats, political power players and even the president's son. But when their bus is ambushed on a secluded rural road, the teenagers and their chaperones are taken, igniting a national crisis. The country's most powerful parents are now at the mercy of one vengeful mastermind, and with nowhere to turn and no one to trust, this unthinkable scenario grows from the select families at risk to an entire nation at stake.
2: If You Are Watching This I Am Dead - Aired: 2014-03-23
After a mysterious phone call, Meg Fitch must collect a large sum of cash in order to get her daughter Amber back safely. Meanwhile, the Pakistani Ambassador is tasked with doing the unthinkable to get his son back. Elsewhere, Dunn and Finley begin working together to track down the whereabouts of a missing secret service agent and uncover a surprising secret. At the mansion, the students of Ballard High School are tested by their captors.
3: What Was Done to You - Aired: 2014-03-30
After Finley and Dunn meet with the President and First Lady, they soon realize that the Chief of Staff is the next parent sent on a dangerous mission to save his child. At the mansion, the mastermind teaches one of the hostages a lesson as they try to escape.
4: We Were Supposed to Help Each Other - Aired: 2014-04-06
Finley and Dunn continue to look into the backgrounds of the parents, three of the parents are tasked with using their influence to steal a key piece of the mastermind's puzzle from the CIA. Meanwhile, Meg deals with the aftermath of her actions. At the mansion, Amber deals with the unwanted attention of one of her captors while Beth Anne and Kyle start to get closer.
5: Designated Allies - Aired: 2014-04-13
Gibson uses his wife Janice to gain information about the CIA's covert soldier program. Dunn and Finley go off grid, becoming targets of the CIA when they take drastic measures to get information. Meanwhile, Meg searches for her company's connection to the kidnapping and is willing to put everything on the line to get Amber back.
6: Here He Comes - Aired: 2014-04-20
When Finley and Dunn plot to lure the kidnappers out of hiding with a CIA file as bait, Finley comes face to face with one of the kidnappers looking to settle a score. Beth Ann fears for Kyle as he plots a way to escape. Meanwhile, Meg betrays someone close to her in exchange for information. Elsewhere, Widener connects with a mysterious asset to monitor Gibson's plot.
7: Homecoming - Aired: 2014-04-27
Seizing their opportunity to speak directly to the kidnapper, Finley and Dunn become one of the parent missions. Meanwhile, Widener continues to collaborate with TJS on a brutal plan to take out their former associate Gibson.
8: How Far Would You Go? - Aired: 2014-05-04
Dunn must take extreme measures to protect Meg. Meanwhile, Gibson makes a demand that could lead to the release of some of the students. As he becomes the focus of the next parent mission, Finley protects Gibson's target from being captured by a desperate parent, Jakob Vries, who is also assigned to kill Finley.
9: You Do Not Know War - Aired: 2014-05-25
When the president visits FBI headquarters, Olsen lets Dunn and Finley share their theories with him; Gibson sends a parent on a mission that could incite a war with China; Ian witnesses something unthinkable.
10: Found - Aired: 2014-06-01
As the FBI finally detects the location of the mansion, Finley and Dunn make a startling discovery and are led on a mission to find the father of one of the soldiers from the Pakistani embassy, who has been sent on a parent mission of his own. Elsewhere, Meg is forced to testify about her connection to the secret soldier program. Gibson puts an unlikely asset to work as the search for the mansion intensifies.
11: Best Laid Plans - Aired: 2014-06-15
Finley is forced to go inside the mansion as part of a hostage exchange. In an effort to trick the world into believing he is innocent, Gibson takes extreme measures and sets his sight on a new target for his next parent mission. With Meg's help, Gibson enacts a piece of his plan that will bring out the truth about the soldier program.
12: This Wasn't Supposed to Happen - Aired: 2014-06-21
Finley makes a heroic move while in the mansion with the kidnappers. Meanwhile, Beth Ann ends up in further danger as a mystery person is determined to get revenge against Gibson.
13: World's Best Dad - Aired: 2014-06-21
Gibson finds himself on a mission orchestrated by Beth Ann's kidnapper, who insists Gibson publicly confess to his crimes at a ceremony with the President and First Lady. Meanwhile, Ian receives a cryptic message that sends him and Amber on a dangerous mission. Elsewhere, Finley and Dunn attempt to stop a threat and stumble upon a shocking revelation.