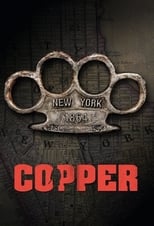 General Information
Glossary: C
First Air Date: October 11th, 2012
Last Air Date: September 22nd, 2013
Created By: Tom Fontana, Will Rokos
Star Casts: Tom Weston-Jones, Anastasia Griffith, Franka Potente, Kyle Schmid, Ato Essandoh, Brad Austin
Aired On: BBC America
Episode Runtime: 45 minutes
Total Seasons: 2 Seasons
Total Episodes: 23 Episodes
Type: Scripted
Status: Canceled
Homepage: BBC America - Copper

Last Updated: Thu, 13 Jan 2022 22:31:34 +0000
Sponsored Links
Ratings
User Rating:
Backdrops Gallery (11 Images)
Copper
Kevin Corcoran is a rugged young Irish immigrant policeman trying to keep the peace in the historical Five Points neighborhood in 1860s New York City while searching for information on the disappearance of his wife and death of his daughter.
Seasons and Episodes
Specials (2 Episodes)
1: Behind the Badge - Aired: 2012-08-09
Get an exclusive look behind the badge of 'Copper' to find out why this gripping cop drama is more than just a 1860s period piece.
2: Copper Sneak Peek
iTunes Exclusive sneak peek at the BBC America show Copper.
Season 1 (10 Episodes)
1: Surviving Death - Aired: 2012-10-11
September 17, 1864. New York City Metropolitan Police Detective Kevin Corcoran's investigation of the murder of a young girl must navigate the slums of Five Points and the mansions of Uptown to find the child's killer.
2: Husbands and Fathers - Aired: 2012-10-18
September 21, 1864. Corcoran receives a lead about the loss of his family. Annie Reilly's pursuers become brutally violent in their search for the child. Robert Morehouse strives to please his father, Norbert, who wishes to purchase the entire Five Points.
3: In the Hands of an Angry God - Aired: 2012-10-25
September 26, 1864. Racial tensions in Five Points run high when a black pastor is suspected of killing an Irishman, and the Morehouse family attempts to capitalize on the situation. The search for Corcoran's missing wife unexpectedly lands in the hands of Eva Heissen.
4: The Empty Locket - Aired: 2012-11-01
October 2, 1864. Corcoran uncovers new clues about his daughter's death and his wife's disappearance which lead to a tragic personal link to a current murder investigation. Doctor Freeman faces his own challenges as his ex-boxer uncle Marcus uses his friends to execute his planned return to the ring.
5: La Tempête - Aired: 2012-11-08
October 11, 1864. Detectives Maguire and O'Brien uncover a gang's scheme to rob some of the wealthiest families in New York City. Corcoran, once informed, must ensure the safety of patrons at an upscale fundraiser without intruding upon Norbert Morehouse and Elizabeth Haverford. As the police prepare for the gala, Maguire reveals a startling, life-changing decision, surprising O'Brien and Corcoran. Meanwhile, Marcus Freeman prepares Jasper Longfield for his exhibition fight against "Irish" Jake McGinnis. As the former boxer trains his new protégé, it becomes apparent to Doctor Matthew Freeman that Marcus has his own interests at heart.
6: Arsenic and Old Cake - Aired: 2012-11-15
October 16, 1864. Corcoran and O'Brien investigate a peculiar double murder. Five Points gathers to watch the exhibition fight between Jasper Longfield and "Irish" Jake McGinnis. Rebellious Annie continues to terrorize an impatient Elizabeth.
7: The Hudson River School - Aired: 2012-11-22
October 18, 1864. Corcoran re-evaluates his decisions about Annie. A group of high society out-of-towners offers Robert Morehouse a unique business opportunity. O'Brien's wife demands that her husband verifies a rumor that New York City is in danger.
8: Better Times Are Coming - Aired: 2012-11-29
November 8, 1864. An Election Day murder hits close to home. Doctor Freeman struggles to maintain his practice while caring for his reclusive wife. Robert Morehouse's newest affiliates prove more formidable than he anticipated.
9: A Day to Give Thanks - Aired: 2012-12-06
November 24, 1864. The fallout of recent murders and a shocking discovery leaves Corcoran shaken. Morehouse's latest business entanglement takes a dire turn.
10: A Vast and Fiendish Plot - Aired: 2012-12-13
November 25, 1864. Corcoran races to keep his life and New York City intact. Doctor Freeman's wife takes her well-being into her own hands. Morehouse discovers the nature of his father's involvement with his new business associates.
Season 2 (13 Episodes)
1: Home, Sweet Home - Aired: 2013-06-23
February 5, 1865. Five Points remains a bedlam. Young men are dying and disappearing at an alarming rate and a career criminal is terrorizing the Sixth Ward. With pressures from Tammany Hall raining down upon the police force, Detective Kevin Corcoran and the coppers of the Sixth Ward must follow the guidance of returned ward leader, General Brendan Donovan. Meanwhile, Doctor Matthew Freeman visits his mentor and is presented with an attractive offer that will cause a rift in his marriage. Uptown, Robert Morehouse and Elizabeth Haverford make plans for their wedding and Confederate spy Kennedy's execution. In the tombs, Francis Maguire is set to learn his fate.
2: Aileen Aroon - Aired: 2013-06-30
As more corpses of young men are found and others continue to disappear, Corcoran leaves no stone unturned in his search for answers. General Brendan Donovan employs unseemly tactics to keep the murders out of the press. Meanwhile, as Sara readies herself to attend a dinner with Frederick Douglass at the Morehouse mansion, Doctor Matthew Freeman makes a drastic decision for the health of his community – forcing her to confront her past. With his fate decided, Maguire must fend for himself and realign his allegiances.
3: The Children of the Battlefield - Aired: 2013-07-07
As Corcoran closes in on the Five Points murderers, his loyalties are tested. Francis Maguire embraces his new underworld position. Robert Morehouse and Elizabeth Haverford exchange vows.
4: I Defy Thee to Forget - Aired: 2013-07-14
The Sixth Precinct's search for the killer of a fellow officer is derailed as Annie Reilly creates a rift in the Corcoran home. Madame Heissen discovers an unlikely ally. Elizabeth Morehouse soothes her conscience by aiding the Freemans. Francis Maguire finds himself crossing paths with old friends.
5: A Morning Song - Aired: 2013-07-21
Five Points falls into a state of panic as a community safe haven is seized by one of the deadliest men in New York City. With both coppers and civilians at the mercy of a brilliant but unstable force, Detectives Kevin Corcoran and Andrew O'Brien, with Doctor Matthew Freeman and several coppers, race against time to restore peace to the Sixth Ward. As the coppers defend their home against an unrelenting foe, Francis Maguire sees an opportunity to settle a score with Corcoran.
6: To One Shortly to Die - Aired: 2013-07-28
A murder demands Detective Kevin Corcoran work closely with an unlikely partner as General Brendan Donovan is eager to close the case cleanly. Meanwhile, Robert Morehouse makes a difficult decision regarding the trial of Kennedy, leading to a surprising change in the proceedings. With spring on the horizon, the Freemans welcome a loved one back into their arms and home; while Madame Eva Heissen and Ellen Corcoran discover shared secrets they both wrestle to keep hidden.
7: The Hope Too Bright to Last - Aired: 2013-08-04
In his investigation, Detective Kevin Corcoran finds himself at an unusual dead end. Doctor Matthew Freeman is faced with the outbreak of a new and troubling illness sweeping Five Points. While Elizabeth tries to help with the Morehouse business, General Brendan Donovan enlists Madame Eva Heissen to gain leverage within his own affairs.
8: Ashes Denote the Fire That Was - Aired: 2013-08-18
The greater COPPER family – Uptown and Five Points alike – gather around Detective Kevin Corcoran, who is reeling from a shocking loss. In a quest to cure the illness sweeping Five Points on a grander scale, Doctor Matthew Freeman steps beyond his role as physician. Robert Morehouse finds himself fighting to ensure that a tumultuous chapter of his past is dead and buried, and that he and his loved ones lives will continue to thrive.
9: Think Gently of the Erring - Aired: 2013-08-25
Returning to the Precinct, Detective Kevin Corcoran is staggered when he discovers a new investigation has one close to him in chains. Racing to free his friend, Corcoran seeks help from those in power. However, General Brendan Donovan is consumed by an upcoming, major political and business move. Meanwhile, Doctor Matthew Freeman approaches Robert Morehouse to suggest a joint effort to aid the city.
10: The Fine Ould Irish Gintleman - Aired: 2013-09-01
Detective Kevin Corcoran begins to question the motives behind strongholds of the Five Points community, and he solicits coppers of the Sixth Precinct to suss out the truth. In a collision of public and private spheres, Robert Morehouse's marriage creates strife in his business ventures. The Freeman family struggles to maintain their freedom and well-being while confronting bigots in their community.
11: Good Heart and Willing Hand - Aired: 2013-09-08
Looming devastation to Five Points forces Detective Kevin Corcoran to take drastic, irrevocable action. Injuries old and new push Doctor Matthew Freeman to the breaking point. As Elizabeth Morehouse spirals further into addiction, intervention comes from the unlikeliest of sources.
12: Beautiful Dreamer - Aired: 2013-09-15
On the move, evading retaliation, Detective Kevin Corcoran works to remain hidden while seeing through events he set in motion. Old loyalties are tested and unlikely friends are made as the people of Five Points and uptown struggle to maintain their foothold in a city driven by vengeance. A catastrophic national event shatters the hope of smooth post-war recovery for not only the people of New York City, but also the United States at large.
13: The Place I Called My Home - Aired: 2013-09-22
In the wake of national tragedy, Detective Kevin Corcoran reels like the rest of the country. As Corcoran mourns with Robert Morehouse and Doctor Matthew Freeman, the three men decide to join a national effort once more. For the three friends, the mission elicits memories from the battlefield, resurfaces faces from the past, and creates opportunity for Five Points chaos to continue unabated.