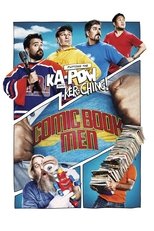 General Information
Glossary: C
First Air Date: February 12th, 2012
Last Air Date: April 8th, 2018
Created By: Kevin Smith
Star Casts: Kevin Smith, Walt Flanagan, Ming Chen, Mike Zapcic, Bryan Johnson
Aired On: AMC
Episode Runtime: 22 minutes
Total Seasons: 7 Seasons
Total Episodes: 96 Episodes
Type: Reality
Status: Ended
Homepage: AMC - Comic Book Men

Last Updated: Sat, 14 Mar 2020 22:31:59 +0000
Sponsored Links
Ratings
User Rating:
Backdrops Gallery (1 Image)
Comic Book Men
A show for Fanboys by Fanboys. Set in uber-geek Kevin Smith's iconic comic shop Jay and Silent Bob's Secret Stash, the show explores every nook and cranny of Fanboy culture from A to Z. Endless circular debates about the technical accuracy of the USS Enterprise's warp-core schematics? Snarky comic aficionados with an encyclopedic knowledge of every Marvel back issue? You bet.
Seasons and Episodes
Season 1 (6 Episodes)
1: Junk - Aired: 2012-02-12
Walt challenges Bryan, Ming and Mike to a Collingswood Flea Market selling contest. Items a plenty come in for sale, some good, some not so much. We're also treated to a masterclass from Rob Bruce.
2: Life After Clerks - Aired: 2012-02-19
Kevin blows into town and gets the Stash staff to face off in a game of street hockey.
3: Commercial - Aired: 2012-02-26
Walt thinks it's time for the Stash to shoot a commercial. Later, a customer brings in something really special.
4: Zombies - Aired: 2012-03-04
Walt lets Ming run a sales promotion for the Stash based on Zombies.
5: Con Gone Wrong - Aired: 2012-03-11
Walt and the guys head to a convention where, after a setback, they strike gold among trash. Later, a customer brings in an item that Mike covets.
6: Ink - Aired: 2012-03-18
Walt challenges the staff to get tattoos. A woman arrives at the Stash looking for a romantic gift for her boyfriend, a man wants to sell a Green Lantern movie prop replica, Bryan shows interest in a woman's collection of Barbie dolls dressed as super-heroes, Walt negotiates for a set of Target-exclusive Batman figures, and a young man resembling Kirk Cameron brings in a number of old books to offer.
Season 2 (16 Episodes)
1: Stash Bashes - Aired: 2012-10-14
The guys throw a birthday bash and later on a customer brings in unusual "Star Wars" memorabilia.
2: My Big Fat Geek Wedding - Aired: 2012-10-21
All bets are on when the guys take in a local auction and a customer discovers that cigars and comic books don't mix.
3: Ghostbusting at the Stash - Aired: 2012-10-28
The guys go on a quest to find the legendary Jersey Devil and a customer tries to unload ThunderCats figures.
4: Ming in Charge - Aired: 2012-11-04
Ming gets to run the store when Walt and Mike take sick; and a customer has first issues of "Iron Man" and "Daredevil" to sell. Ming convinces "Clerks" star Brian "Dante Hicks" O'Halloran to help out.
5: The Sidewalk Stash - Aired: 2012-11-11
Ming convinces the other guys to let him represent the Stash in the town's annual sidewalk sale.
6: The Running Dead - Aired: 2012-11-18
Kevin holds a 5km zombie run for charity that Ming and Mike agree to participate in; Walt makes a deal for an odd item containing autographs from the 1966 "Batman" TV series.
7: Tough Sh*t - Aired: 2012-11-25
Kevin visits the Stash for a book signing; Jay acts as security; a customer brings in original artwork.
8: Stan the Man - Aired: 2012-12-02
The staff prepare for a visit from Stan Lee and Walt has the opportunity to purchase one of the most coveted comic books of the past two decades.
9: The Clash at the Stash - Aired: 2013-02-14
The Stash sells an independent comic book so the guys can see a costumed M.M.A fight; Walt buys nostalgic underwear to use in a bet.
10: Super Hoagie - Aired: 2013-02-21
The guys have a showdown at a local deli (who have sandwiches made for city fixtures) to see who can make the best sandwich that will represent the Secret Stash.
11: Stash-teroids - Aired: 2013-02-28
Walt negotiates for an original Asteroids arcade cabinet. Ming is excited about G.I Joe figures.
12: Con Men - Aired: 2013-03-07
The Stash organizes an auction to help a long time customer/friend sell his comic collection for mounting medical bills. Another customer relates to one of Spider-Man's deadliest enemies.
13: Stash Wars - Aired: 2013-03-14
A customer tries an unusual strategy to sell a popular gaming system, while Ming purchases more nostalgic childhood memorabilia.
14: Cryptozoic Men - Aired: 2013-03-21
The guys try to create their own comic book. Walt buys a signed issue of Creepy.
15: Comic Charades - Aired: 2013-03-28
The guys play charades with a comic-book theme, while Walt seizes an opportunity to purchase original artwork from a favorite artist.
16: Giant-Sized Anniversary - Aired: 2013-04-04
Ming plans a surprise for Walt's anniversary at The Stash; Ming learns the virtue of patience.
Season 3 (16 Episodes)
1: The Incredible Bulk - Aired: 2013-10-13
Lou Ferrigno gives Bryan a lesson on fitness; a customer wants to purchase a key comic by Frank Miller.
2: To the Bat Cave - Aired: 2013-10-20
The staff at the Stash receives an invitation to visit a bat cave and a customer arrives at the shop intending to sell his collection of original "Star Wars" action figures.
3: Super Friends - Aired: 2013-10-27
The guys ask George Perez to help rebuild Mike's collection; vintage interactive comic books.
4: USS Ming - Aired: 2013-11-03
Ming has the chance to purchase an oversized toy from the '80s; taking a wife on the perfect date.
5: Pity the Fools - Aired: 2013-11-10
A fan sells a Mr. T backyard water game; Ming is inspired to have fun on a hot day; Walt risks the shop's street credibility.
6: Walt's Big Gamble - Aired: 2013-11-17
The guys bid on derelict storage units in hopes of striking it rich; Walt finds a fellow Elfquest fanatic.
7: Dukes of Jersey - Aired: 2013-11-24
A fan of "The Dukes of Hazzard" stops by to show off his collection of memorabilia; Walt encounters his first "brony."
8: Cryptozoic Launch - Aired: 2013-12-01
The guys travel to the Baltimore Comic Con to launch their comic book, "Cryptozoic Man"; Jeff works on a Saturday to fill in for Walt.
9: Superman's 75th - Aired: 2014-02-09
A customer buys a gift for his father's 75th birthday; the Stash throws a party for Superman's 75th birthday.
10: Uhura's Uhura - Aired: 2014-02-16
A woman is looking for an Uhura Mego doll from the '70s; an X-Men fan buys the first appearance of Phoenix.
11: Pinheads - Aired: 2014-02-23
Walt is inspired to form a bowling team; an ill-conceived action figure shows up.
12: Trivia Chew-Off - Aired: 2014-03-02
Bored, Walt quizzes the guys on comic book trivia; a customer sells a Hellboy prop replica.
13: The Esposito Collection - Aired: 2014-03-09
The Stash helps auction off the work of Mike Esposito; Walt buys a paper doll.
14: Batcycle on Broad - Aired: 2014-03-16
The guys have the opportunity to buy a replica of the '66 Batcycle; a collection of Marvel fan magazines from the '70s.
15: Certified Guaranty - Aired: 2014-03-23
A young man wants to appraise his collection; Walt buys Wayne Gretzky memorabilia.
16: Knights of the Stash - Aired: 2014-03-30
Jason Mewes invites the guys to a Renaissance fair; a customer brings in a valuable item.
Season 4 (16 Episodes)
1: Heir Apparent - Aired: 2014-10-12
Kevin Smith sends his daughter to the Stash to learn how to be a clerk; a customer wants to sell rare and unusual "Rocky" action figures.
2: Walt's Treehouse - Aired: 2014-10-19
A returning customer brings in a toy that Walt always coveted; an aspiring student brings in an autographed book.
3: Stand Up Guys - Aired: 2014-10-26
Walt challenges the others to perform stand-up routines; a collector brings in Marvel comics from the 1960s.
4: Super Baby - Aired: 2014-11-02
The guys agree to baby-sit a friend's daughter for the afternoon; an Indiana Jones superfan has items from the films.
5: BronyCon - Aired: 2014-11-09
Walt and the others attend BronyCon, a convention for "My Little Pony" fans; a customer wants to sell a Godzilla board game from the 1970s.
6: Bat Prints - Aired: 2014-11-16
Walt considers buying the hand and footprints of Adam West and Burt Ward; a rare set of Star Wars comic strips.
7: Turtle Time - Aired: 2014-11-23
The co-creator of Teenage Mutant Ninja Turtles, Kevin Eastman, brings in early sketches of the turtles.
8: Stashbusters - Aired: 2014-11-30
Walt has a business proposition for original Ghostbuster, Ernie Hudson; a customer wants to sell cartoon shampoo bottles from the 1960s.
9: Dragging Rights - Aired: 2015-02-16
Adam West visits and a race between the Batmobile and Black Beauty ensues.
10: Mr. Adams - Aired: 2015-02-16
Artist Neal Adams and writer Denny O'Neil visit the Stash; the guys see a set of 50-year-old Batman night lights.
11: My Favorite Munster - Aired: 2015-02-22
Butch Patrick (Eddie Munster) stops by the Stash; a rare Star Wars action figure.
12: Secret Stashley - Aired: 2015-03-01
Kevin's assistant, Ashley, learns about comic book retail at the Stash; pro wrestlers want to sell their comic.
13: Sucka M.C. - Aired: 2015-03-09
Darryl McDaniels of Run DMC brings his new comic to the Stash; the guys look at a Marvel Silver Age number one issue.
14: Falcon for Sale - Aired: 2015-03-16
Billy Dee Williams stops by the store to win the Millennium Falcon the same way Lando lost it: a high-stakes card game.
15: KISS My Stash - Aired: 2015-03-23
The guys attend a KISS concert; Walt lives out his childhood dream of meeting Gene Simmons.
16: Jay Invades - Aired: 2015-03-23
Jason Mewes hangs out and plays clerk at the Stash; Walt wants to acquire a mysterious recreation of comic book art.
Season 5 (13 Episodes)
1: Wookiee Fever - Aired: 2015-10-19
Peter Mayhew (best known for playing "Chewbacca" in Star Wars) judges a Wookiee contest at the Stash.
2: Holy Zap Copter! - Aired: 2015-10-19
Mike flies in the original '66 Batcopter to celebrate 15 years working at the Secret Stash. Also, one of the hottest comic books of the '90s enters the Stash.
3: Captain and the Clerk - Aired: 2015-10-26
Kevin talks comics with actor William Shatner and Walt covets a Mego doll that has unique packaging.
4: Bryan Gets Bit - Aired: 2015-10-26
The guys and Bryan visit a "Jaws" museum; super-powered toilet paper comes through.
5: Stash-pocalypse - Aired: 2015-11-09
A hot zombie comic prompts the guys to reconsider their apocalyptic preparations. An eccentric collector comes seeking Walt's help.
6: Stan Saves! - Aired: 2016-02-15
Stan Lee drops by the Stash and helps the guys with a customer experiencing a comics crisis. A customer buys a classic issue of Fantastic Four.
7: Making Clay - Aired: 2016-02-22
Walt and Bryan audition the Secret Stash employees for a role in their new claymation film with friend and fellow podcaster Brian Quinn.
8: Royal Romita - Aired: 2016-02-29
Legendary comics artist John Romita Jr. draws an original piece for the Stash. Bryan's interest is piqued by an Evel Knievel toy from his childhood.
9: Suburban Cowboys - Aired: 2016-03-07
An old pal inspires the gang to don their cowboy hats and journey back to the old Wild West. A customer comes in seeking an iconic '80s comic.
10: Tell 'Em, Jim Lee! - Aired: 2016-03-14
Artist Jim Lee shares tales from the world of comics on the podcast; a comic book brings wedding bells to the Stash.
11: Insta-Ming - Aired: 2016-03-21
When Ming gets a selfie stick, he tries to go viral by filming the Stash; Walt examines bootleg toys of an '80s blockbuster.
12: Baby Jay - Aired: 2016-03-28
Jason Mewes brings his baby daughter to the Stash so she can meet the guys. Later, a customer sells a collection of comic-book Slurpee cups.
13: Hometown Heroes - Aired: 2016-04-04
In the fifth-season finale, Phoenix Jones, a real-life superhero, visits the Stash and patrols Red Bank, N.J., with the guys. Later, Walt reminisces about an iconic Batman playset.
Season 6 (16 Episodes)
1: Bucket List - Aired: 2016-10-24
Walt & the boys go on a trip to cross off a bucket-list item: being in the presence of Action Comics #1. Four key Spider-Man issues come to the Stash.
2: Mistress of the Stash - Aired: 2016-10-31
Horror queen Elvira helps out when the Stash sponsors a blood drive at the shop. The boys banter about the joys of Mystery Science Theater 3000.
3: Pac-Ming - Aired: 2016-11-07
Ming battles a customer when a vintage 1980s Pac-Man game lands on the counter. A rare Beatles board game has the guys flipping their mop-tops!
4: KITT and Caboodle - Aired: 2016-11-14
KITT from "Knight Rider" pulls up to the Stash; a rare Green Arrow Mego figure and Archie Bunker's grandson.
5: Bionic Customer - Aired: 2016-11-20
Lindsay Wagner ("The Bionic Woman") stops in for a Silver Surfer item; Jem and Ghostbusters toys spark another round of banter.
6: Joust-A-Bouts - Aired: 2016-11-28
Things get medieval when Ming and a customer joust over the price of Batman #111. Later, Wolverine shows up as the largest statue to ever enter the Stash.
7: Wurst Episode Ever - Aired: 2016-12-05
Kevin and Harley come to town for the Yoga Hosers premiere. Later, Ming gets transformed into the lead villain by a special-effects-makeup legend.
8: Stash Troopers - Aired: 2016-12-12
Members of the 501st Legion of Storm Troopers invade the Stash looking for new recruits. Later, lives are at stake over the fate of a vintage Ewok playset.
9: Karate Kustomer - Aired: 2017-02-09
Ralph Macchio stops by looking for a rare Karate Kid playset, and Ming gets a lesson he'll never forget. Walt flips over a pricey Mechagodzilla.
10: Bats Ahoy! - Aired: 2017-02-20
The guys prepare for a maritime adventure when the Batboat docks in Red Bank; Batman's first appearance.
11: Return of the Mewes - Aired: 2017-02-27
Jason Mewes hangs with the boys and inserts himself into transactions involving a Deadshot statue and a vintage Death Star Space Station.
12: Daughter of the Demon - Aired: 2017-03-06
Actress Katrina Law (``Arrow'') wants a copy of Batman 232; old school items involving Popeye, Dynomutt and Pogs.
13: Rock 'Em Sock 'Em Stash - Aired: 2017-03-12
Walt steps into the ring with a customer over an original Rock 'Em Sock 'Em Robots game; a rare piece of original Sal Buscema art.
14: Marky Ramone-Bot - Aired: 2017-04-09
Ramones drummer Marky Ramone shows off his artwork and bonds with Walt over old school robots. A King Kong item bring the boys back to 1975.
15: The Amazing Walter - Aired: 2017-04-16
A Kreskin ESP game reveals Walt's secret powers of cognition. Items inspire discussions about Mork from Ork and Dick Tracy's Rogues' Gallery.
16: Reverse Stash - Aired: 2017-04-23
The boys get a visit from Tom Cavanagh who plays Reverse Flash on _The Flash_ TV series. Walt sniffs out a Golden Age classic with _Human Torch #2_.
Season 7 (13 Episodes)
1: Return of the Living Stash - Aired: 2017-10-22
Kevin Smith and the guys discuss how The Walking Dead started out as a comic book and became a cultural phenomenon.
2: Nightmare on Broad Street - Aired: 2017-10-29
Legendary horror icon Robert Englund, aka Freddy Krueger, personally delivers a birthday present to Ming.
3: Hail to the King - Aired: 2017-11-19
The Stash & Red Bank cosplayers celebrate the Centennial of the late, great Jack Kirby, one of the greatest innovators in comic book history.
4: Method Man's Mego - Aired: 2017-11-26
Influential actor and rapper Method Man talks to the guys about his extensive comic book collection. Starsky & Hutch gear takes over The Stash.
5: Stash Bash - Aired: 2017-12-03
Jay & Silent Bob cosplayers take over the streets of Red Bank as the Comic Book Men attempt to make history by setting a Guinness World Record.
6: In a Galaxy Very Nearby - Aired: 2017-12-10
With rare and interesting Star Wars items making their way into the Stash, Walt offers up big cash to try and score a beacon for the store.
7: Ode to Clerks - Aired: 2018-02-25
Kevin Smith and the guys attend a premiere screening of Shooting Clerks, a film about themselves and how Clerks came to be.
8: The Canine Crusaders - Aired: 2018-03-04
Burt Ward, the infamous Robin the Boy Wonder, reminisces about his time on the set of Batman. He also judges the Stash's Canine Cosplay contest.
9: Power Man vs. Counter Man - Aired: 2018-03-11
Walt meets his match during a heated negotiation with actor Mike Colter (Luke Cage); a "legendary" video game becomes both Walt's trash and Ming's treasure.
10: Troma-tized - Aired: 2018-03-18
Troma Entertainment co-founder Lloyd Kaufman and his crew put the guys through a grueling audition to see if they have what it takes to be in a Troma film.
11: A Pez-tacular Mystery - Aired: 2018-03-25
The boys take a field trip to the Pez Museum to determine if Walt is actually the owner of an extremely rare and valuable piece of Pez history.
12: The Mightiest of Mortals - Aired: 2018-04-01
When Walt learns that Ming befriended actor Michael Gray (Shazam!), he decides that he must meet the "Mighty Mortal."
13: Pop Goes the Stash - Aired: 2018-04-08
Kevin and the boys attend the grand opening of Funko's new headquarters, where they get honored with their very own Pop! figures.