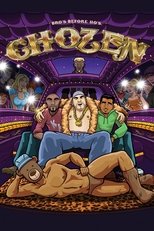 General Information
Glossary: C
First Air Date: January 13th, 2014
Last Air Date: April 21st, 2014
Created By: Grant DeKernion
Star Casts: Bobby Moynihan, Michael Peña, Hannibal Buress, Nick Swardson, Kathryn Hahn
Aired On: FX
Episode Runtime: 30 minutes
Total Seasons: 1 Season
Total Episodes: 13 Episodes
Type: Scripted
Status: Canceled
Homepage: FX - Chozen

Last Updated: Mon, 25 Apr 2022 22:31:50 +0000
Sponsored Links
Ratings
User Rating:
Backdrops Gallery (1 Image)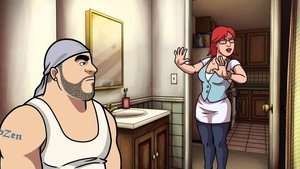 Chozen
An animated comedy about its title character, "Chozen," a gay white rapper fresh out of prison. Armed with a new message, Chozen is on a quest for redemption and to claim his rightful position as the world's top rap artist. His music and lyrics take aim at the stereotypes of machismo and misogyny that is synonymous with rap music. And his new world view has been shaped by his time in prison.
Seasons and Episodes
Season 1 (13 Episodes)
1: "Pilot" - Aired: 2014-01-13
An aspiring rapper tries to get his life back on track after being released from prison.
2: "Love & Bottlerockets" - Aired: 2014-01-20
Chozen takes action when he suspects Tracy's boyfriend is cheating on her.
3: "Beef" - Aired: 2014-01-27
A surprising job offer reunites Chozen with an old enemy.
4: Da Director - Aired: 2014-02-03
Tracy and Chozen collaborate on a video while Ricky and Crisco attempt to get Troy laid.
5: Laced - Aired: 2014-02-24
An old flame comes between Chozen and the band as they prepare to perform at an exclusive party.
6: "I'm With the Contraband" - Aired: 2014-03-03
Chozen launches a criminal enterprise at the university.
7: Family Weekend (or How Gary Got His Groove Back) - Aired: 2014-03-10
A campus visit turns into an unforgettable night for Chozen and Tracy's parents.
8: Boy's Night - Aired: 2014-03-17
Chozen and Hunter hit the hottest club in town, while Ricky and Crisco try to get exposure for their new song.
9: In a Pickle - Aired: 2014-03-24
A big opportunity in children's television threatens the band's hip hop future.
10: The Battle of Broken Spear - Aired: 2014-03-31
At the summer's biggest music festival, Chozen confronts his past and goes head-to-head with Phantasm.
11: Sell, Sell, Sell - Aired: 2014-04-07
Back in the comfort of prison, Chozen confronts a new enemy.
12: Soul Patch - Aired: 2014-04-14
After an unfortunate series of events, Phantasm quits the rap game and finds love in a small town.
13: Scurry Stories - Aired: 2014-04-21
Chozen and his crew go busting after a legendary ghost said to haunt campus.