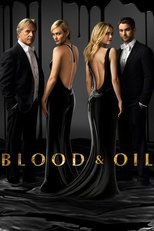 General Information
Glossary: B
First Air Date: September 27th, 2015
Last Air Date: December 13th, 2015
Created By: Rodes Fishburne, Josh Pate
Star Casts: Don Johnson, Chace Crawford, Rebecca Rittenhouse, Amber Valletta, Scott Michael Foster, India de Beaufort, Yani Gellman, Delroy Lindo, Miranda Rae Mayo
Aired On: ABC
Episode Runtime: 42 minutes
Total Seasons: 1 Season
Total Episodes: 10 Episodes
Type: Scripted
Status: Canceled
Homepage: ABC - Blood & Oil

Last Updated: Tue, 24 Aug 2021 10:30:38 +0000
Sponsored Links
Ratings
User Rating:
Backdrops Gallery (9 Images)
Blood & Oil
Billy and Cody LeFever dream of a new life and move to "The Bakken" in North Dakota, booming after the biggest oil discovery in American history. They're soon pitted against a ruthless tycoon who forces them to put everything on the line, including their marriage.
Seasons and Episodes
Season 1 (10 Episodes)
1: Pilot - Aired: 2015-09-27
Billy and Cody arrive in Rock Springs intent on starting their own business, but when Billy bets big, Cody questions his intentions and their marriage.
2: The Ripple Effect - Aired: 2015-10-04
Wick scrambles to hide his involvement in the robbery. The arrival of Hap's daughter Lacey stokes a rivalry with Carla. Billy agrees to another deal with Hap without first consulting Cody.
3: Hustle and Flow - Aired: 2015-10-11
Hap, who no longer suspects Wick of involvement in the oil heist, extends an olive branch to his son via a new venture, but tensions boil over when Billy tries to join the deal. Sheriff Tip arrests a suspect in the robbery. AJ tries to use his relationship with Lacey to undermine Briggs Oil. Hap rekindles his relationship with his son's girlfriend.
4: The Birthday Party - Aired: 2015-10-18
Broke and still reeling from being conned by Hap, Billy seeks revenge and turns to an unlikely ally, Clifton Lundegren, hoping to appeal to his mutual disgust towards the Briggs'. Wick defiantly ignores Hap's wishes and continues to see Jules even enlisting Carla's help in throwing her a huge birthday party at the house. And, things come to a head with Lacey and AJ leading to a confrontation that will force AJ to make a game changing decision.
5: Rocks and Hard Places - Aired: 2015-10-25
Wick's shortcomings are magnified when his sister, and potential rival, Lacey officially joins the family business. Meanwhile, Billy attempts to blackmail Hap with information Cody shared with him in confidence, further putting their marriage on the line. Unable to shake suspicions about his son, Hap pays a visit to Sheriff Tip, who reveals that Wick may know more about the robbery than he's letting on. Later, Gary proves a continuing threat to Wick — but when Wick tries to fight back — it's Cody who is put in harm's way.
6: Convergence - Aired: 2015-11-01
The brutal attack on Cody unites friends and enemies alike, as Hap takes the opportunity to try to pull a rival into the fold. A vengeful Billy is determined to uncover the person responsible for the crime and, against his better judgment, finds himself looking to Wick for help. Meanwhile, Wick is at his wits' end when he learns of Gary's involvement and decides it's time to take matters into his own hands. And, Carla senses Hap is having an affair with Jules and she is not afraid to confront this head.
7: Fight or Flight - Aired: 2015-11-08
After leaving Gary for dead, Wick and Billy form an unlikely alliance. Meanwhile, Hap becomes the target of Federal agents, who approach Wick to help them build the case against his father. Also, Billy and Emma make their own play to bring Hap down when they travel to Houston to present their proposal to Hap's ex-wife, Annie. And Carla, dealing with her own suspicions of her husband, masterminds a plan to expose his secret affair that holds devastating consequences for Wick.
8: Rats, Bugs and Moles - Aired: 2015-11-29
Briggs Oil is celebrating its 30th Anniversary, and the party must go on, even in the wake of the intensified federal investigation into Hap's business dealings. Suspecting there's an informant in his ranks, Hap clamps down on security and nearly exposes his son, Wick, as the source of the leak. This leads Wick to recruit an unlikely accomplice in his desire to bring down his father. Meanwhile, Annie sets up shop in Rock Springs with her new partner, Billy, who finds himself increasingly preoccupied as his lies begin to catch up to him in the form of Gary Laframboise, who threatens to expose the truth about Billy.
9: The Art of the Deal - Aired: 2015-12-06
With Carla behind bars after taking the fall for the stolen report, Hap is more determined than ever to find the mole at Briggs Oil who put her there. But first, Annie pays Carla an unexpected visit to propose a deal that would give both women what they want. Meanwhile, Jules' brush with death brings both Briggs men rushing to her bedside, providing her with an opportunity to come clean with their secrets. Despite Billy's profuse apologies, his lies have pushed Cody over the edge, and Billy fears he may never be able to make things right. Later, Hap and Annie face off against each other as they prepare to make their biggest play yet. May the best Briggs win.
10: Departures - Aired: 2015-12-13
Christmas is a time for coming together, but for the Lefevers, it's a time of difficult choices. Billy faces an ultimatum to either save his marriage by leaving Rock Springs forever or to stay in the oil game alone while Cody experiences temptation in the form of another man. With the Black Elks land deal slipping away, Annie and Hap consider doing the unthinkable – joining forces to help secure this once-in-a-lifetime oil acquisition. Fearing the fate of his son, AJ enlists Tip to help bring the child to safety. And finally, another father-and-son relationship is pushed to its limits when Hap and Wick finally lay it all out on the table at the Briggs Christmas Eve gathering.