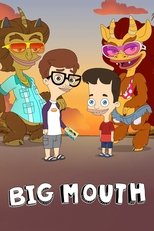 General Information
Glossary: B
First Air Date: September 29th, 2017
Last Air Date: October 28th, 2022
Created By: Jennifer Flackett, Mark Levin, Nick Kroll, Andrew Goldberg
Star Casts: Nick Kroll, John Mulaney, Jessi Klein, Jason Mantzoukas, Maya Rudolph, Fred Armisen, Jordan Peele
Aired On: Netflix
Episode Runtime: 27 minutes
Total Seasons: 7 Seasons
Total Episodes: 62 Episodes
Type: Scripted
Status: Returning Series
Homepage: Netflix - Big Mouth

Last Updated: Sat, 30 Sep 2023 10:30:29 +0000
Sponsored Links
Ratings
User Rating:
Backdrops Gallery (39 Images)
Big Mouth
Teenage friends find their lives upended by the wonders and horrors of puberty in this edgy comedy from real-life pals Nick Kroll and Andrew Goldberg.
Seasons and Episodes
Season 1 (10 Episodes)
1: Ejaculation - Aired: 2017-09-29
As Andrew falls under the spell of the randy Hormone Monster, his buddy Nick becomes obsessed with the lack of changes in his own body.
2: Everybody Bleeds - Aired: 2017-09-29
A field trip goes from awkward to mortifying as Jessi navigates the demands of coupledom and gets her first period -- inside the Statue of Liberty.
3: Am I Gay? - Aired: 2017-09-29
A trailer for a new movie starring The Rock leaves Andrew questioning his sexuality. Jessi and Nick's budding romance turns ugly fast.
4: Sleepover: A Harrowing Ordeal of Emotional Brutality - Aired: 2017-09-29
While the boys head to Jay's for a testosterone-fueled sleepover, Jessi throws a party of her own and gets caught up in mean-girl drama.
5: Girls Are Horny Too - Aired: 2017-09-29
A steamy novel making the rounds at school inspires Jessi to explore her own sexuality -- and leaves the boys totally confused about what girls want.
6: Pillow Talk - Aired: 2017-09-29
Nick drags Andrew into the city to visit an old camp crush, but the day doesn't go as planned. Jay embarks on an emotional journey with his pillow.
7: Requiem for a Wet Dream - Aired: 2017-09-29
Andrew struggles to keep the Hormone Monster in check as he works with Missy on a science fair project. Jessi and Matthew have fun at Jay's expense.
8: The Head Push - Aired: 2017-09-29
When Leah hosts a party for the high school drama crowd, Nick wrestles with a romantic dilemma, and Andrew and Missy witness a disturbing scene.
9: I Survived Jessi's Bat Mitzvah - Aired: 2017-09-29
Family blowups, secret liaisons and an unflattering dress make Jessi's bat mitzvah a night to remember.
10: The Pornscape - Aired: 2017-09-29
Andrew tries to drown his sorrows in a sea of porn, only to become hopelessly addicted. Coach Steve becomes a suspect in a murder spree.
Season 2 (10 Episodes)
1: Am I Normal? - Aired: 2018-10-05
Andrew struggles to blend in after a growth spurt, Nick worries his hormones are out of whack, and Jessi and Jay get a taste of the teen runaway life.
2: What Is It About Boobs? - Aired: 2018-10-05
A classmate's booming bosom sends the boys into a rapture -- and leaves the girls with a raging case of insecurity. Coach Steve drops a bombshell.
3: The Shame Wizard - Aired: 2018-10-05
As Nick tries to figure out whether he has a shot with Gina, a mortifying encounter with Leah sends Andrew into a spiral of shame.
4: Steve the Virgin - Aired: 2018-10-05
Coach Steve finally gets his chance to do sex on a lady, Nick and Andrew go on a double date, and Jessi's rebellious streak leads to big trouble.
5: The Planned Parenthood Show - Aired: 2018-10-05
An argument in sex ed class turns into a skit-tastic journey through the worlds of Planned Parenthood, contraceptives and STDs.
6: Drug Buddies - Aired: 2018-10-05
Jessi and Nick dip into her dad's stash of edibles, with mind-bending results. Andrew searches for the right moment to break up with Lola.
7: Guy Town - Aired: 2018-10-05
While helping Greg move into a seedy bachelor complex, the boys and their dads debate what women want -- and what it means to be a man.
8: Dark Side of the Boob - Aired: 2018-10-05
A school sleepover turns messy as Nick dishes on a makeout session and the Shame Wizard works his miserable magic on the whole class.
9: Smooch or Share - Aired: 2018-10-05
Nick tries to lighten the mood at the sleepover with a new twist on Truth or Dare. The Shame Wizard meets his match. Jessi vows to change her ways.
10: The Department of Puberty - Aired: 2018-10-05
After traveling through a magic portal to puberty headquarters, Nick seeks out a new Hormone Monster and Jessi bonds with the Depression Kitty.
Season 3 (11 Episodes)
1: My Furry Valentine - Aired: 2019-02-08
Sappy cards. Stupid clichés. And so much pressure. For Andrew, Nick, Jessi and friends, Valentine's Day is a total freaking minefield.
2: Girls Are Angry Too - Aired: 2019-10-04
When a shop class mishap inspires a sexist dress code, Jessi rebels, Missy struggles to keep her alter ego in check, and Andrew gets a wake-up call.
3: Cellsea - Aired: 2019-10-04
Nick is bewitched by his cool new phone. A call from "Pharmacy Boy" turns Matthew into a nervous wreck. Jay finds a Netflix show made just for him.
4: Obsessed - Aired: 2019-10-04
Cellsea goads Nick into posting a risqué video, Maury urges Matthew to speed things up with Aiden, and Jay feeds Missy ideas for her erotic fiction.
5: Florida - Aired: 2019-10-04
While Nick tags along with the Gloubermans on a wild road trip to Florida, Jay discovers he's been "Home Alone'd" -- and moves in with a new family.
6: How To Have An Orgasm - Aired: 2019-10-04
Connie gives Jessi a crash course in female pleasure, Maury tries to talk Andrew into sending a dick pic, and Nick lashes out at his new housemate.
7: Duke - Aired: 2019-10-04
The ghost of Duke Ellington takes Nick and friends on a journey back in time to 1913: the year he lost his virginity and found his true calling.
8: Rankings - Aired: 2019-10-04
As the friends feverishly swap lists of the hottest kids at school, newcomer Ali stokes the flames by announcing she's pansexual.
9: The ASSes - Aired: 2019-10-04
A big standardized test sends everyone into a panic -- except for Jay, who just scored an Adderall prescription.
10: Disclosure the Movie: The Musical! - Aired: 2019-10-04
A provocative school musical unleashes Missy's inner thespian -- and her new Hormone Monstress. The "Queer Eye" Fab Five pay a visit to Coach Steve.
11: Super Mouth - Aired: 2019-10-04
When a freak storm gives everyone new superpowers, tensions between Andrew, Nick and friends boil over into an epic showdown.
Season 4 (10 Episodes)
1: The New Me - Aired: 2020-12-04
At sleep-away camp, Jessi befriends her trans cabinmate, and Nick discovers his two best friends have a little too much in common.
2: The Hugest Period Ever - Aired: 2020-12-04
While Jessi deals with menstrual mayhem, Nick tries to avoid showering with the guys, and Missy gets a makeover from her cousins in Atlanta.
3: Poop Madness - Aired: 2020-12-04
On the last night of camp, bowel problems, a talent show and a hookup lead to hurt feelings. Back home, Jay and Lola throw a pool party.
4: Cafeteria Girls - Aired: 2020-12-04
After seeing their eighth grade classmates coupled up, Nick and Andrew make a play for two seventh grade girls. Jessi adjusts to life in the city.
5: A Very Special 9/11 Episode - Aired: 2020-12-04
On a trip to the 9/11 museum, Nick and Andrew sneak off to meet Jessi, Devon teaches Missy about code-switching, and Coach Steve gets a rude surprise.
6: Nick Starr - Aired: 2020-12-04
Thirty years in the future, rich but lonely game show host Nick prepares to flee a dying Earth. But first, he has to track down the perfect plus-one.
7: Four Stories About Hand Stuff - Aired: 2020-12-04
The kids at Bridgeton Middle explore enthusiastic consent, feminine pleasure, coercion and more in four short films.
8: The Funeral - Aired: 2020-12-04
Wracked with guilt, Andrew tries to keep his urges in check. Matthew's mom ices him out of the church bake=off after reading his texts.
9: Horrority House - Aired: 2020-12-04
A trippy haunted house hosted by Kappa Kappa Kill forces each of the friends to reckon with their biggest fears.
10: What Are You Gonna Do? - Aired: 2020-12-04
Forced out of his own body by his smug alter ego, Nick fights back - with help from his friends and Gratitoad. Matthew comes out to his dad.
Season 5 (10 Episodes)
1: No Nut November - Aired: 2021-11-05
To get his mind off Lola, Jay begs his pals to join him in a monthlong challenge. Missy's caught off guard by a new crush.
2: The Shane Lizard Rises - Aired: 2021-11-05
Eager to get his mojo back, the Shame Wizard drops in on swim class to torment the kids with bodily insecurities.
3: Lovebugs - Aired: 2021-11-05
As Walter the love bug coaches Nick on matters of the heart, Jesse gets fired up about protesting the school's problematic mascot.
4: The Green-Eyed Monster - Aired: 2021-11-05
Unrequited love and jealous rivalries turn the friends into seething beasts. Andrew gets a little too invested in a substitute teacher.
5: Thanksgiving - Aired: 2021-11-05
Missy tries to show her cousins she's not a dork, Andrew takes a stand against his dad's turkey tyranny, and Jesse hopes for a Thanksgiving miracle.
6: Best Friends Make the Best Lovers - Aired: 2021-11-05
While Jessi sorts through her feelings for Ali, Nick joins Devon for a boys' night, Andrew shows off his new persona, and Missy starts a rumor online.
7: I F**king Hate You - Aired: 2021-11-05
Emboldened by their new monsters, Missy and Nick descend into a hate spiral. Meanwhile, Jay puts on a big show to win back Lola.
8: A Very Big Mouth Christmas - Aired: 2021-11-05
Classic holiday stories get a naughty makeover in this special episode hosted by puppet versions of Maury and Connie.
9: Sugarbush - Aired: 2021-11-05
On a Birch family ski trip, Leah prepares to go all the way with Val, and Andrew hits it off with a fellow ski noob. Matthew helps Jay out of a slump.
10: Re-New Year's Eve - Aired: 2021-11-05
Nick follows Walter to the land of monsters and demands to see the person in charge. A New Year's Eve party inspires a flurry of grand gestures.
Season 6 (10 Episodes)
1: The Hookup House - Aired: 2022-10-28
After being snowed in with their families, the restless friends flock to Bridgeton's latest make-out spot. A new classmate catches Missy's eye.
2: Twenty Two and You - Aired: 2022-10-28
A DNA test leads Nick to uncover a wee family secret. Jay insists on introducing Matthew to the Bilzerian clan. Andrew puts his lovebug to the test.
3: Vagina Shame - Aired: 2022-10-28
From itching to grooming to late blooming: There's no shortage of fodder for shame maven Rita St. Swithens in this special episode.
4: Rice Purity Test - Aired: 2022-10-28
A viral quiz about naughty deeds sparks arguments and unlikely new friendships. Matthew plans a baby shower for Maury.
5: Andrew's Gonna Touch A Boob Tonight - Aired: 2022-10-28
While Andrew prepares for a momentous evening with Bernie, Nick sets out to meet his secret grandfather, and Jay cooks up some romance for Matthew.
6: The Apple Brooch - Aired: 2022-10-28
The voice of a slick, new tech accessory hypnotizes people into doing things they wouldn't normally do. Missy grapples with the concept of sin.
7: Dadda Dia! - Aired: 2022-10-28
Lola hits the jackpot — in more ways than one. Missy takes her dad to Elijah's church. The Birches make a plan to get rid of their new housemate.
8: Asexual Healing - Aired: 2022-10-28
Elijah tries to figure out why he doesn't have the same urges as his friends. A jealous Andrew hops a train to Vermont to surprise Bernie
9: The Parents Aren't Alright - Aired: 2022-10-28
While Andrew and Nick deal with parental crises, Jessi meets her new sibling, and Matthew realizes he's made Jay into a different person.
10: F**ked Up Friday - Aired: 2022-10-28
A sudden outbreak of body-swapping yields awkward situations and poignant revelations galore.
Season 7 (1 Episode)
1: Episode 1 - Aired: 2023-10-20
No overview available.