General Information
Glossary: B
First Air Date: February 8th, 2015
Last Air Date: August 15th, 2022
Created By: Peter Gould, Vince Gilligan
Star Casts: Bob Odenkirk, Jonathan Banks, Rhea Seehorn, Patrick Fabian, Michael Mando, 托尼·达尔顿, Giancarlo Esposito
Aired On: AMC
Episode Runtime: 45 minutes
Total Seasons: 6 Seasons
Total Episodes: 63 Episodes
Type: Scripted
Status: Ended
Homepage: AMC - Better Call Saul

Last Updated: Sun, 04 Jun 2023 10:31:50 +0000
Sponsored Links
Ratings
User Rating:
Backdrops Gallery (73 Images)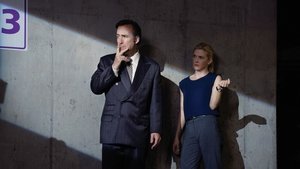 Better Call Saul
Six years before Saul Goodman meets Walter White. We meet him when the man who will become Saul Goodman is known as Jimmy McGill, a small-time lawyer searching for his destiny, and, more immediately, hustling to make ends meet. Working alongside, and, often, against Jimmy, is "fixer" Mike Ehrmantraut. The series tracks Jimmy's transformation into Saul Goodman, the man who puts "criminal" in "criminal lawyer".
Seasons and Episodes
Specials (6 Episodes)
1: Day One - Aired: 2014-12-18
First Day of Production. Take a look at the first day on the set of Better Call Saul.
2: In the Studio - Aired: 2015-01-06
A very rare inside-the-studio look at the creation of the song "Better Call Saul," performed by Junior Brown and written by the show creators Vince Gilligan and Peter Gould.
3: A Look at the Series - Aired: 2015-01-27
Behind the scenes of the original series.
4: Characters of Better Call Saul - Aired: 2015-02-03
The cast and crew introduce the characters of the new series.
5: No Picnic - Aired: 2017-06-19
A family settles in for a picnic on the side of a dirty highway...with an ulterior motive.
6: American Greed: James McGill - Aired: 2022-04-05
James M. McGill has a secret weapon — his mouth. As a public defender, he fights for the little guy, and wins. But helping people soon loses its cachet. Opportunities to make real money for drug dealers and cartels come knocking, and with that comes a bigger office and a brand new identity — Saul Goodman. Join Stacy Keach as he narrates this dissection of the dark side of the American Dream.
Season 1 (10 Episodes)
1: Uno - Aired: 2015-02-08
Jimmy works his magic in the courtroom. Unexpected inspiration leads him to an unconventional pursuit of potential clients.
2: Mijo - Aired: 2015-02-09
As his troubles escalate to a boiling point, Jimmy finds himself in dire straits. An act of carelessness puts Chuck at risk.
3: Nacho - Aired: 2015-02-16
Jimmy pulls out all the stops to prove that his dangerous client is innocent, even though it causes some friction with Kim.
4: Hero - Aired: 2015-02-23
Jimmy devises a bold plan to obtain new clients, but must face consequences when his relationships become strained.
5: Alpine Shepherd Boy - Aired: 2015-03-02
Alarming news disrupts Jimmy's efforts at drumming up new business, forcing him to make a difficult choice.
6: Five-O - Aired: 2015-03-09
Mike's tragic past comes back to haunt him, and he's forced to seek help from an unusual source. Jimmy's moral compass is put to the test.
7: Bingo - Aired: 2015-03-16
Jimmy meets with potential new clients. Then, when given the opportunity to do the right thing, he cashes in a favor from an unlikely ally.
8: RICO - Aired: 2015-03-23
Jimmy shows Chuck that he's willing to do almost anything to win a case, even if it means getting his hands dirty.
9: Pimento - Aired: 2015-03-30
Chuck urges Jimmy to accept a harsh truth. Meanwhile, a deal threatens to go off the rails when Mike's ability to complete a job is called into question.
10: Marco - Aired: 2015-04-06
In the aftermath of recent events, Jimmy seizes an opportunity to reconnect with an old friend. Chuck adjusts to a new way of life.
Season 2 (10 Episodes)
1: Switch - Aired: 2016-02-15
Jimmy and Kim's relationship takes a new turn. Mike decides it's for the best to sever his affiliation with an unrestrained associate.
2: Cobbler - Aired: 2016-02-22
To keep a potentially messy situation from unraveling, Mike brokers a deal. Jimmy works to exonerate an eccentric client.
3: Amarillo - Aired: 2016-02-29
Jimmy's client outreach efforts thrive, and he exhibits new heights of showmanship. Mike is perplexed by daughter-in-law Stacey's troubling news.
4: Gloves Off - Aired: 2016-03-07
Jimmy's actions unexpectedly create waves for Kim. Mike cautiously weighs a lucrative proposal that might bring about dire consequences.
5: Rebecca - Aired: 2016-03-14
Jimmy becomes frustrated with his restrictive work environment. Kim pulls out all the stops to dig herself out of a seemingly bottomless hole at HHM.
6: Bali Ha'i - Aired: 2016-03-21
Jimmy finds comfort in familiarity. Kim receives a life-changing proposal. When he is threatened, Mike finds himself pushed to the limit.
7: Inflatable - Aired: 2016-03-28
Mike's growing frustration shows when his hand is forced, but with Jimmy's help, he works to keep the peace. Meanwhile, Jimmy boldly forges a new path forward.
8: Fifi - Aired: 2016-04-04
Mike aims to settle the score with an enemy; an unexpected opportunity presents itself to Jimmy.
9: Nailed - Aired: 2016-04-11
Mike takes a methodical approach to his mission. Someone questions Chuck's capabilities. Jimmy faces a personal dilemma.
10: Klick - Aired: 2016-04-18
Jimmy must make a hard choice. Mike takes control of matters. Hamlin delivers shocking news.
Season 3 (10 Episodes)
1: Mabel - Aired: 2017-04-10
Jimmy and Chuck's relationship deteriorates. Kim feels the pressure of running her own firm. Mike investigates the note left on his car.
2: Witness - Aired: 2017-04-17
Jimmy and Kim hire an assistant. Mike seeks out a mysterious acquaintance. Chuck uses the law to gain an advantage over Jimmy.
3: Sunk Costs - Aired: 2017-04-24
Jimmy decides to represent a new client to Kim's dismay. Mike meets a formidable ally who gives a tempting offer.
4: Sabrosito - Aired: 2017-05-01
Jimmy asks a favor of Mike; new complications disrupt Salamancas' business. Chuck and Jimmy struggle with a compromise.
5: Chicanery - Aired: 2017-05-08
Kim and Jimmy face off with an adversary. Jimmy looks to Chuck's past to secure his future. Jimmy loses an ally and gains another.
6: Off Brand - Aired: 2017-05-15
Jimmy has a new endeavor. Chuck pushes himself to the limit. Nacho finds himself in a power struggle.
7: Expenses - Aired: 2017-05-22
Jimmy tries to settle debts. Nacho reunites with an acquaintance. Mike helps Stacey with a project and makes a connection.
8: Slip - Aired: 2017-06-05
Jimmy is pushed to desperate measures. Nacho picks up a new skill. Mike explores an alliance. Kim stands up to Hamlin.
9: Fall - Aired: 2017-06-12
Jimmy visits an old friend and takes up a new pastime. Chuck and Hamlin spar over the future of the firm. Kim faces challenges at work.
10: Lantern - Aired: 2017-06-19
Kim takes time off. Jimmy tries to make amends. Nacho gambles with his future. Hamlin pushes Chuck to make a decision.
Season 4 (10 Episodes)
1: Smoke - Aired: 2018-08-06
Jimmy struggles to cope with Chuck's tragic death. Mike ponders his role at Madrigal. Howard makes a startling confession.
2: Breathe - Aired: 2018-08-13
Jimmy seeks new employment. Gus navigates the fallout from Hector's collapse. Kim endeavors to support Jimmy in the wake of Chuck's death.
3: Something Beautiful - Aired: 2018-08-20
Jimmy puts a risky plan into motion. As alliances shift, Nacho finds himself in the crosshairs. Kim contemplates her future.
4: Talk - Aired: 2018-08-27
A restless Jimmy embarks on a new endeavor while Mike burns bridges. Kim pursues her bliss. Nacho tries to survive a turf war.
5: Quite a Ride - Aired: 2018-09-03
Jimmy identifies a new market for his talents. Mike vets a potential partnership. Kim drives a hard bargain.
6: Piñata - Aired: 2018-09-10
While Jimmy dreams of Wexler-McGill, Kim makes a bold move. Mike puts a plan into motion for Gus.
7: Something Stupid - Aired: 2018-09-17
Jimmy expands his business, but runs into a problem that only Kim can solve. Gus intervenes in Hector's medical care. Mike deals with a setback.
8: Coushatta - Aired: 2018-09-24
Jimmy goes to great lengths to right a wrong, as Kim pulls out all the stops for a case. Mike lets his team blow off steam. Nacho receives a visitor.
9: Wiedersehen - Aired: 2018-10-01
Jimmy and Kim unburden themselves, risking their relationship in the process. Nacho is forced to make the rounds with Lalo. Mike has cause to worry.
10: Winner - Aired: 2018-10-08
Jimmy turns the page on his reputation. Lalo tracks a loose end in Gus' operation. Mike is forced to make a difficult decision.
Season 5 (10 Episodes)
1: Magic Man - Aired: 2020-02-23
Now doing business as Saul Goodman, Jimmy unveils an unorthodox strategy for client development that tests Kim's tolerance of his new legal persona. Lalo searches for the mysterious Michael, only to discover a problem within his own operation.
2: 50% Off - Aired: 2020-02-24
Jimmy's promotional stunt has unintended consequences. Nacho takes extreme measures to earn Lalo's trust. Saul is a success at the courthouse but still has yet to win Kim over. Simmering with rage and self-loathing, Mike loses his temper.
3: The Guy for This - Aired: 2020-03-02
Jimmy's business enters uncharted territory. Kim's confidence is tested when she's faced with a legal problem only she can solve. Nacho navigates increased pressure from Gus. Mike continues to spiral.
4: Namaste - Aired: 2020-03-09
As Jimmy doubles down on Saul Goodman, a deeply conflicted Kim brings him an interesting proposition, Gus makes a sacrifice in order to play the long game, and Mike attempts to smooth things over with his family.
5: Dedicado a Max - Aired: 2020-03-16
Mike takes an impromptu trip out of town. As she and Jimmy grow closer over their campaign to help a client, Kim makes a surprising call.
6: Wexler v. Goodman - Aired: 2020-03-23
Kim tries to pump the brakes on Jimmy's latest scheme, but it may be too late to stop Saul. Mike turns the heat up on Lalo. Nacho attempts to enlist support from above.
7: JMM - Aired: 2020-03-30
Jimmy and Kim build a legal firewall with help from Huell. Kim sets things straight with her clients as Jimmy is compromised by his. Gus, at war on all fronts, calms troubled waters in service of his plot to build an empire. Mike does damage control.
8: Bagman - Aired: 2020-04-06
When a simple errand for a client goes sideways, Jimmy is pushed to the limit. Mike takes measures to contain the wrath of the cartel. Lalo gets an unexpected visitor.
9: Bad Choice Road - Aired: 2020-04-13
In the wake of Jimmy's traumatic misadventure, Kim takes stock of what is important. Jimmy attempts to return to business as usual, but it's more difficult than anticipated. Gus and Mike set a plan in motion.
10: Something Unforgivable - Aired: 2020-04-20
Jimmy and Kim make a sideways move that takes a serious turn. Nacho gets closer to the cartel than he'd like. Season Finale.
Season 6 (13 Episodes)
1: Wine and Roses - Aired: 2022-04-18
Nacho runs for his life. Jimmy and Kim hatch a plan. Mike questions his allegiances.
2: Carrot and Stick - Aired: 2022-04-18
Harsh realities dawn on Nacho. Gus investigates his suspicions.
3: Rock and Hard Place - Aired: 2022-04-25
Still on the run, Nacho is forced to choose where his loyalties lie. Jimmy doubles down.
4: Hit and Run - Aired: 2022-05-02
Gus takes extreme measures. Jimmy and Kim enlist a local pro to put on a show.
5: Black and Blue - Aired: 2022-05-09
While business booms for Jimmy, the vise tightens on the cat-and-mouse game between Gus and Lalo.
6: Axe and Grind - Aired: 2022-05-16
Kim and Jimmy enlist a knowledgeable contact. Howard scrutinizes Jimmy's business practices.
7: Plan and Execution - Aired: 2022-05-23
Jimmy and Kim deal with a last-minute snag. Howard's investigation finally yields results.
8: Point and Shoot - Aired: 2022-07-11
An unexpected visitor forces Jimmy and Kim to face the consequences of their actions.
9: Fun and Games - Aired: 2022-07-18
Gus attempts to smooth things over with the cartel while Mike ties up loose ends.
10: Nippy - Aired: 2022-07-25
A lost dog leads to a new friend. A new player gets in the game.
11: Breaking Bad - Aired: 2022-08-01
Emboldened by recent successes, partners throw caution to the wind and escalate their enterprise to new levels.
12: Waterworks - Aired: 2022-08-08
The stakes are raised when a discovery is made that will send shockwaves far and wide.
13: Saul Gone - Aired: 2022-08-15
The series finale.