General Information
Glossary: A
First Air Date: July 19th, 2011
Last Air Date: May 24th, 2016
Created By: Lauren Iungerich
Star Casts: Ashley Rickards, Beau Mirchoff, Nikki DeLoach, Jillian Rose Reed, Brett Davern, Molly Tarlov, Desi Lydic, Greer Grammer
Aired On: MTV
Episode Runtime: 22 minutes
Total Seasons: 5 Seasons
Total Episodes: 89 Episodes
Type: Scripted
Status: Canceled
Homepage: MTV - Awkward.

Last Updated: Sun, 03 Dec 2023 10:31:37 +0000
Sponsored Links
Ratings
User Rating:
Backdrops Gallery (14 Images)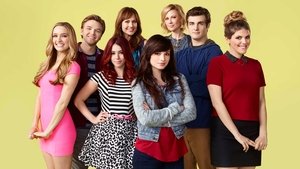 Awkward.
An irreverent look at the conflict, chaos and humor that defines teenage life through the eyes of 15-year-old Jenna Hamilton whose life begins to change when a simple accident becomes an epic misunderstanding and is blown way out of proportion. Narration in the first-person voice of Jenna's blog posts captures the humor within the struggles and experiences everyone can relate to from their formative years.
Seasons and Episodes
Specials (10 Episodes)
1: S01 - About The Show
No overview available.
2: S01 - Behind The Scenes
No overview available.
3: S01 - Character Intros
No overview available.
4: Webisode - Morning Announcments
No overview available.
5: Webisode - Sadies Anger Managent
No overview available.
6: Webisode - V-time
No overview available.
7: Dressing Awkward.
No overview available.
8: Awkward. Aftershow. You're Welcome - Aired: 2012-09-20
No overview available.
9: Aftershow. You're Welcome. - Aired: 2013-06-11
No overview available.
10: Most Awkward Moments - Aired: 2013-06-18
Highlights from the show include funny lines and juicy relationships.
Season 1 (12 Episodes)
1: Pilot - Aired: 2011-07-19
In the series premiere of "Awkward", Jenna Hamilton finds out that getting the boy of her dreams isn't all it's cracked up to be. When a mysterious letter leads to a misunderstanding of epic proportions, Jenna realizes that her new stigma might be her ticket to social visibility.
2: Knocker Nightmare - Aired: 2011-07-26
Jenna gets her cast off, but her shirt comes with it. An unwanted photo op gives everyone a chance to voice their opinion - on the most intimate of subjects. Will anyone come to her rescue and wake her up from this nightmare?
3: The Way We Weren't - Aired: 2011-08-02
Jenna and Matty's relationship is heating up in private, but in public she's still his secret. Will a party at Lissa's be their first PDA, or will an unexpected hot-tub visitor ruin everything?
4: The Scarlet Eye - Aired: 2011-08-09
A Homecoming bonfire gives everyone license to misbehave, and Jenna contemplates the ultimate decision: to DTR (define the relationship) with Matty or not DTR.
5: Jenna Lives - Aired: 2011-08-16
Jenna's big accident is a distant memory, and she actually starts to feel normal again until a strange stalker brings her suicide stigma back to life. Jenna even starts to wonder if her "that girl" reputation is preventing Matty from seeing her as girlfriend material or. does he already have one?
6: Queen Bee-atches - Aired: 2011-08-23
Jenna mingles with the mean girls at an elite charity event. Later, things get even more awkward when she runs into Matty and Jake.
7: Over My Dead Body - Aired: 2011-08-30
A mock DUI event is held at the school, and Jenna gets cast as the victim. Meanwhile, Jake and Matty vie for her attention.
8: The Adventures of Aunt Ally & the Lil' Bitch - Aired: 2011-09-06
When Lacey's BFF Ally comes to town, they decide to "help" Jenna throw a rager. The next day, a forgetful and hungover Jenna struggles to reconstruct the events of the wild night and find out who she kissed.
9: My Super Bittersweet Sixteen - Aired: 2011-09-13
Jenna's sixteenth birthday isn't very sweet as she suffers one embarrassing experience after the next. Jenna is still reeling from the aftermath of her house party and dealing with the repercussions of everyone she's alienated. After failing her driving test and getting humiliated in the school cafeteria, Jenna wonders if she can repair her relationships with Matty and Tamara.
10: No Doubt - Aired: 2011-09-20
Jenna feels like she and Matty are actually on solid ground for the first time when he asks her out on their first real date. But, when Tamara reveals her suspicion that Matty wrote Jenna's care-frontation letter, Jenna starts to question everything about her romance with Matty.
11: I am Jenna Hamilton - Aired: 2011-09-27
As the night of winter formal approaches, someone shares the carefrontation letter with the whole student body, and Jenna must make a difficult decision.
12: Fateful - Aired: 2011-09-27
Jenna is still unsure about her relationship with Matty, but after she attends the winter formal with Jake, she begins to re-think all of her choices.
Season 2 (12 Episodes)
1: Resolutions - Aired: 2012-06-28
A gift from Jake forces Jenna to decide whether she's ready to leave her past with Matty behind for good.
2: Sex, Lies and the Sanctuary - Aired: 2012-07-05
Jenna revels in her and Jake's official relationship status until she learns a hidden camera is filming at the Sanctuary. She then goes to great lengths to destroy the tape, enlisting Ming and others to help.
3: Three's a Crowd - Aired: 2012-07-12
Jenna and Jake's relationship is finally going smoothly that is untill Matty starts tagging along and tries to tempt Jenna constantly.
4: Are You There God? It's Me, Jenna - Aired: 2012-07-19
Jenna struggles with her parents' separation. Feeling responsible, she tries to absolve herself by attending a church camp.
5: My Love is a Black Heart - Aired: 2012-07-26
Jenna prepares for her first Valentine's Day with a boyfriend; Jenna and Tamara are jealous that Matty and Ricky seem to be moving on.
6: What Comes First: Sex or Love? - Aired: 2012-08-02
Still reeling from Jake's proclamation of love, Jenna considers sleeping with him, believing sex might bring her some clarity about her own feelings.
7: Another One Bites the Dust - Aired: 2012-08-09
Jenna's plans to sleep with Jake are hindered by Aunt Ally's wedding, someone from her mother's past and Sadie.
8: Time After Time - Aired: 2012-08-16
Jake gets upset when he learns of Jenna and Matty's past,breaking up with Jenna saying 'the timing wasn't right'. Matty after finding out goes to comfort Jenna ending up with them making out on Jenna's bed. Once Jake hears Jenna's message on her phone admitting she loves him, he realises his mistake and goes to her house finding Matty and Jenna kissing. Meanwhile Lacey ends up dancing with her old boyfriend Ben at the wedding. Jenna's dad ends up coming finding them dancing and is heartbroken. And, Jenna tells Matty she is still in love with him.
9: Homewrecker Hamilton - Aired: 2012-08-23
An unexpected text brings Jenna's love drama into the spotlight.
10: Pick Me, Choose Me, Love Me - Aired: 2012-08-30
After releasing her blog, everyone has opinions about Jenna's life; Jake and Matty want answers.
11: Once Upon A Blog - Aired: 2012-09-13
Jenna's imagination runs wild as she fictionalizes her blog in an attempt to change her fate.
12: The Other Shoe - Aired: 2012-09-20
Jenna prepares for her trip to Europe as her decision about the boys goes public in the Season 2 finale.
Season 3 (20 Episodes)
1: Cha-cha-cha-changes - Aired: 2013-04-16
In the season three premiere episode Jenna's junior year brings a wave of surprises and changes that potentially will impact her future in an indelible way.
2: Responsibly Irresponsible - Aired: 2013-04-16
The death of classmate will leave Jenna to reflect on loss, grieving, and taking responsibility for a secret she's keeping from Matty.
3: A Little Less Conversation - Aired: 2013-04-23
As Jenna continues to question where she's going with her life, she has a new concern: Matty is suddenly becoming emotionally distant.
4: Let's Talk About Sex - Aired: 2013-04-30
Jenna's father takes matters into his own hands to talk to Matty's parents about their kids' relationship.
5: Indecent Exposure - Aired: 2013-05-07
When Matty moves in with the Hamiltons, Jenna discovers that cohabitation may be more than she bargained for.
6: That Girl Strikes Again - Aired: 2013-05-14
The ghosts of Jenna's past reveal themselves along with Jenna's insecurity as Halloween hits Palos Hills.
7: Guilt Trippin' - Aired: 2013-05-21
Jenna's first date to the Homecoming dance conjures up old feelings of guilt for the girl she used to be and the girls who don't have dates.
8: Rubbed Raw and Reeling - Aired: 2013-05-28
A challenge from Mr. Hart forces Jenna to expose herself publically and in the process, she is confronted with some disturbing newfound revelations about herself.
9: Reality Check - Aired: 2013-06-04
After a late night coffee with Collin, Jenna can't stop thinking about him and what it means to have a crush as well as a boyfriend.
10: Redefining Jenna - Aired: 2013-06-11
Tensions arise between Jenna and Matty when Collin invites her to a swanky photography showcase at his house.
11: Surprise! - Aired: 2013-10-22
After an impulsive make out with Collin, Jenna resolves to end her infidelity before Matty finds out.
12: And Then What Happened - Aired: 2013-10-29
Everyone pieces together events from Jenna's birthday party to figure out if her and Matty are still together.
13: Taking Sides - Aired: 2013-11-05
Jenna and Matty's breakup forces their friends to choose sides.
14: The Bad Seed - Aired: 2013-11-12
When Jenna and Collin start to get more serious, it causes tension in her other relationships.
15: A Very Special Episode of Awkward - Aired: 2013-11-19
Sadie's idea for Val's After School Special production rubs Jenna the wrong way.
16: Less Than Hero - Aired: 2013-11-19
Jenna's family and friends decide that it's time to show her some tough love.
17: The Campaign Fail - Aired: 2013-11-26
Jenna decides that it is time to change her ways but could it be too late?
18: Old Jenna - Aired: 2013-12-03
Lacey starts her new job at Palos Hills and Jenna has a wake-up call that puts everything almost back to normal.
19: Karmic Relief - Aired: 2013-12-10
Everyone at Palos Hills starts preparing for prom, while Ming is more concerned about her future with the Asian Mafia. Jenna does a few good deeds but it might not be enough for karmic relief.
20: Who I Want to Be - Aired: 2013-12-17
After Matty asks for permission to take Bailey to prom, Jenna reevaluates who she has become and who she wants to be.
Season 4 (21 Episodes)
1: No Woman is an Island - Aired: 2014-04-15
Jenna is determined to make a fresh start; lingering feelings for Matty harden Jenna's resolve.
2: Listen to This - Aired: 2014-04-22
Jenna tries to communicate with a distant Matty; Tamara questions Jake's talent for music.
3: Touched by an Angel - Aired: 2014-04-29
Jenna and Matty try stay friends and have sex, but Jenna find the arrangement unbalanced.
4: Sophmore Sluts - Aired: 2014-05-06
Jenna and Tamara compete with sophomores for the Spirit Week title and attention from Matty and Jake.
5: Overnight - Aired: 2014-05-13
Jenna and Tamara go on an overnight visit to a college; Lacey craves a college experience; Matty has a party.
6: Crowning Moments - Aired: 2014-05-20
Jenna has a college romance while managing a male beauty pageant; Tamara desperately tries to win Jake back.
7: After Hours - Aired: 2014-05-27
An amicable group outing devolves as the night goes on; Jenna realizes that she might still have feelings for Matty.
8: Prison Breaks - Aired: 2014-06-03
Jenna decides to visit Luke at college; Matty and Jake spend a night in jail; Tamara has an unexpected hookup.
9: My Personal Statement - Aired: 2014-06-10
Jenna and Tamara view the possibility of separate futures; Eva plots to keep Matty and Jenna ousted.
10: Snow Job (1) - Aired: 2014-06-17
Rivalries and romances all come to a head on the Palos Hills High School senior ski trip.
11: Snow Job (2) - Aired: 2014-06-17
Sadie and Jenna team up to reveal Eva's past to Matty.
12: Finals - Aired: 2014-09-23
Jenna tries to focus on her finals after the senior ski trip, but aftershocks from the revelation threaten her chances.
13: Auld Lang Party - Aired: 2014-09-30
Although Jenna wants to have a quiet New Year's Eve, plans go awry and she ends up at a party at Ally's house.
14: Welcome to Hell - Aired: 2014-10-07
Jenna heads for a meltdown after receiving a rejection; "Hell Tent" takes revelations to a new level.
15: Bonfire of the Vanities - Aired: 2014-10-14
The annual season bonfire becomes a powder keg when Jenna and Tamara find the boys' girl-rating tradition known as the Phone Book and announce it to the school.
16: #drama - Aired: 2014-10-21
The battle of the sexes erupts again; Tamara and Jenna's "Dude Database" goes viral; a revealed secret causes friction between Jenna and Tamara.
17: The New Sex Deal - Aired: 2014-10-28
Jenna hires a party bus for Valentine's Day.
18: Girl Rules - Aired: 2014-11-04
Jenna is at odds with Matty's girlfriend on his 18th birthday; Sadie and Tamara battle for cheerleading dominance.
19: Over the Hump - Aired: 2014-11-11
Jenna tries to keep everything balanced, but with the stress of college applications and boy-related drama, her final Spring Break is not much of a respite.
20: Sprang Break (1) - Aired: 2014-11-18
Shenanigans ensure while the students enjoy spring break at Ally's rental beach house in Rosarito, Mexico.
21: Sprang Break (2) - Aired: 2014-11-25
Sex, secrets and shenanigans occur at Ally's rental beach house in Rosarito, Mexico.
Season 5 (24 Episodes)
1: Prank Amateurs - Aired: 2015-08-31
Some senior pranks manage to cause chaos. Jenna's vow to not think about Matty ends up being tested after she overhears a worrying secret.
2: Short Circuit Party - Aired: 2015-09-07
Jenna causes an accident at school that has surprising results. Meanwhile Matty must deal with the aftermath of his confrontation with Jake.
3: Jenna In Wonderland - Aired: 2015-09-14
While Jenna gets a taste of popularity, Matty struggles with being shunned. Meanwhile, Jake goes after a new girl, and Ally hosts a sex toy party.
4: Now You See Me, Now I Don't - Aired: 2015-09-21
Senior Yearbooks are out. Jenna's depressed to see her senior superlative, but what will Matty say in her yearbook?
5: The Dis-Engagement Dinner - Aired: 2015-09-28
Jenna's forced to throw Tamara a party to celebrate her fake engagement. Meanwhile, Gabby reveals a secret about Matty that sends Jenna in search of the truth.
6: Don't Dream It's Over - Aired: 2015-10-05
Tamara accuses Jenna of sabotaging relationships, so Jenna confronts her ex-boyfriends to find answers.
7: The Big Reveal - Aired: 2015-10-12
Jenna wants to tell Matty the truth.
8: An Indecent Promposal - Aired: 2015-10-19
Prom season arrives at Palos Hills High School; Jenna receives some surprising news.
9: Say No To The Dress - Aired: 2015-10-26
Jenna refuses to let a series of obstacles ruin her chance at having a dream prom.
10: Reality Does Not Bite - Aired: 2015-11-02
The prom takes unexpected turns.
11: The Graduates - Aired: 2015-11-09
Sadie is forbidden from walking at graduation.
12: Holding On and Letting Go - Aired: 2015-11-09
Everyone tries to make the last night of high school count.
13: I'm The Kind of Girl Who Found Her Voice In College - Aired: 2016-03-15
Jenna is on top of the world when she gets home from her freshman year of college, but her newfound confidence is shaken when she discovers she's not the only one who's changed.
14: Wtf Happened Last Year? - Aired: 2016-03-22
Jenna reveals what happened to her and the rest of the gang in the last year—what caused the freeze between Matty and Jenna, what sparked the friendship between Sadie and Tamara, and how Jake and Lissa rekindled their romance.
15: The Friend Connection - Aired: 2016-03-29
Jenna avoids a new relationship in order to connect with her co-workers. Meanwhile, Tamara throws a chic birthday party for Sadie that leaves more than one partier feeling less than celebratory.
16: Best Friends For Never - Aired: 2016-04-05
In an effort to make Idea Bin a friendlier place for herself, Jenna hooks Tamara up with an internship but quickly discovers that working with friends can be a recipe for disaster.
17: Fireworks - Aired: 2016-04-12
Jake secures shifts for Jenna and Tamara at the country club for the Fourth of July, but Sully's plans for an after-hours party on the golf course lead to some dramatic fireworks.
18: Digging Deep - Aired: 2016-04-19
After their Fourth of July fun, Jenna and Matty continue to rekindle their friendship by throwing a party for Jake, at least until Jenna's latest Idea Bin post threatens to unravel it all.
19: Girls Gone Viral - Aired: 2016-04-26
Jenna tries to decide between success at Idea Bin and her tenuous friendship with Matty. Jake has an unexpected hookup, and Sadie and Sergio find themselves baring more than ever before.
20: Misadventures In Babysitting - Aired: 2016-05-03
Jenna volunteers to babysit, and receives some unexpected help in Matty. Meanwhile, Lissa learns the secret to being a Palos Hills mom, and Tamara and Sadie are in over their heads at a rich-kid clambake.
21: Living in Sin - Aired: 2016-05-10
Jenna takes things with Luke to the next level, and Tamara's debt comes back to bite her.
22: Home Again, Home Again - Aired: 2016-05-17
A fight with Luke pushes Jenna to sign up for her camp reunion – and towards reconnecting with Matty.
23: Second Chances - Aired: 2016-05-24
Help from Luke lands Jenna an important meeting at SCU and Tamara comes clean about her money woes.
24: Happy Campers. Happier Trails - Aired: 2016-05-24
Jenna has to decide between an important SCU event and her camp reunion, which leads to an even bigger choice: Luke or Matty.