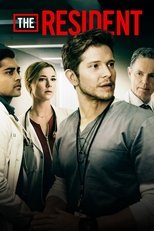 General Information
Glossary: T
First Air Date: January 21st, 2018
Last Air Date: March 26th, 2018
Created By: Amy Holden Jones, Roshan Sethi, Hayley Schore
Star Casts: Bruce Greenwood, Matt Czuchry, Emily VanCamp, Manish Dayal, Shaunette Renée Wilson, Moran Atias, Merrin Dungey, Melina Kanakaredes
Aired On: FOX
Episode Runtime: 42 minutes
Total Seasons: 1 Season
Total Episodes: 9 Episodes
Type: Scripted
Status: Returning Series
Homepage: FOX - The Resident

Last Updated: Tue, 20 Mar 2018 01:32:26 +0000
Sponsored Links
Ratings
User Rating:
Backdrops Gallery (3 Images)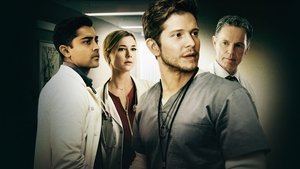 The Resident
A tough, brilliant senior resident guides an idealistic young doctor through his first day, pulling back the curtain on what really happens, both good and bad, in modern-day medicine.
Seasons and Episodes
Season 1 (9 Episodes)
1: Pilot - Aired: 2018-01-21
On his first day as an intern, an idealistic Dr. Devon Pravesh faces the harsh realities of medical care, as third year resident Dr. Conrad Hawkins takes him under his wing and teaches his unconventional ways for treating patients. Meanwhile, Conrad goes head-to-head with Chief of Surgery Dr. Solomon Bell, who uses power and intimidation to cover up his mistakes.
2: Independence Day - Aired: 2018-01-22
Conrad receives the call he's been waiting for when a heart becomes available for a patient who has been on the transplant list for two years. But when a congressman is admitted to the hospital after a heart attack, he is prioritized and derails Conrad's patient's surgery. Meanwhile, Nic grows suspicious of one of the doctors after a file goes missing, Dr. Bell tries to manipulate Mina and Devon is put to the test when a patient's condition requires a split-second decision.
3: Comrades in Arms - Aired: 2018-01-29
An old army buddy and fellow surgeon visits Conrad at the hospital. Meanwhile, the team is put to the test when they have to save the life of an uninsured and undocumented patient, while simultaneously battling the hospital's administrators, who fear the patient will cost millions. Also, Dr. Bell experiments with a new medication for his tremor and Nic swears to investigate the mystery surrounding missing medical records.
4: Identity Crisis - Aired: 2018-02-05
After a mix-up in the ER causes Conrad to deliver a death notification to the wrong family, he sets out to fix it. Meanwhile, Nic struggles to find a patient's records who has been under Lane's care, Devon forms a bond with an elderly patient and Mina is benched after overreaching in the surgical unit.
5: None The Wiser - Aired: 2018-02-26
Three concurrent surgeries at the hospital push its staff to the limits. Determined to ease the pressure, Nic requests Jude for one of the operations, making Conrad jealous. Meanwhile, Dr. Lane Hunter sets out to discredit Nic's claims, Devon struggles with a patient who has an embarrassing problem and a charitable contributor comes to the hospital wanting to donate a lot of money to Dr. Lane's oncology program.
6: No Matter The Cost - Aired: 2018-03-05
As Conrad battles a group of overly aggressive attending physicians on behalf of a patient with a mysterious chronic ailment, he also must face off against his father who has shown up at the hospital unannounced. When Mina goes out of her way to help a young man from her neighborhood who almost mugged her, Nic offers her assistance and discovers a secret that Mina has been keeping behind closed doors. While away from the hospital, Nic enlists the help of Devon to keep an eye on Lily, which leads him to an incredible find that has him questioning Dr. Lane's motives. Also, Renata's plans to poach a renowned surgeon from another hospital hit a standstill when Bell decides he doesn't agree with him.
7: The Elopement - Aired: 2018-03-12
Conrad goes head-to-head with Lane when he disagrees with her over a treatment plan for a terminal cancer patient. Tensions rise when Jude inserts himself in the middle by offering to perform the invasive procedure Conrad is fighting against. When a VIP patient crosses the line with Nic, she must devise a strategy on how to stand her ground and combat the situation. Meanwhile, Bell realizes he'll need Mina's hands more than ever
8: Family Affair - Aired: 2018-03-19
Much to Bell's dismay, Nic and Conrad decide to admit a homeless Jane Doe, whom they suspect was dumped off by another hospital during Chastain's big Charity Ball. Elsewhere in the hospital, Devon and Irving care for a male escort who offers surprisingly good advice, Micah returns for a checkup and falls even harder for Mina, and Devon's parents are in town.
9: Lost Love - Aired: 2018-03-26
Conrad's ex-fiancé, Catherine, is admitted to the hospital with abdominal pain that proves to be quite the medical mystery. As Conrad doggedly tries to figure out her diagnosis and fights the idea of Bell performing her operation, Nic gets some insight into Conrad's past. Meanwhile, Bell panics when Claire announces that she will be installing cameras in all operating rooms, Devon wracks his brain for the perfect birthday present for Priya and Lane realizes that Nic is suspicious about her clinic.