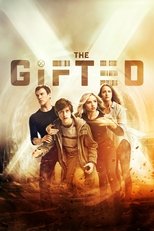 General Information
Glossary: T
First Air Date: October 2nd, 2017
Last Air Date: January 15th, 2018
Created By: Matt Nix
Star Casts: Stephen Moyer, Amy Acker, Natalie Alyn Lind, Percy Hynes White, Sean Teale, Jamie Chung, Emma Dumont, Blair Redford, Coby Bell
Aired On: FOX
Episode Runtime: 45 minutes
Total Seasons: 2 Seasons
Total Episodes: 14 Episodes
Type: Scripted
Status: Returning Series
Homepage: FOX - The Gifted

Last Updated: Wed, 12 Sep 2018 09:51:18 +0000
Sponsored Links
Ratings
User Rating:
Backdrops Gallery (12 Images)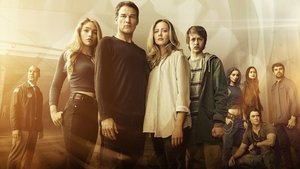 The Gifted
A suburban couple's ordinary lives are rocked by the sudden discovery that their children possess mutant powers. Forced to go on the run from a hostile government, the family joins up with an underground network of mutants and must fight to survive.
Seasons and Episodes
Season 1 (13 Episodes)
1: eXposed - Aired: 2017-10-02
A suburban couple is forced to flee from a hostile government after their teenage children begin to show they possess certain powers.
2: rX - Aired: 2017-10-09
After exerting her powers beyond their limits, Blink goes into a state of shock, forcing Caitlin and Eclipse to go on a mission to find a special serum that will help her to recover. Meanwhile, Reed faces some difficult choices when it comes to helping his family, and Polaris runs into some trouble.
3: eXodus - Aired: 2017-10-16
In an effort to reunite with one another, Reed cuts a deal with the Sentinel Services and Caitlin and the kids seek help from someone outside the compound. Meanwhile, Thunderbird begins to teach Blink how to control her powers.
4: eXit strategy - Aired: 2017-10-23
When the mutants devise a plan to take down Sentinel Services, Eclipse seeks out an old friend from his dark past in order to obtain some useful information. Meanwhile, Lauren and Andy attempt to combine their powers in order to help the group.
5: boXed in - Aired: 2017-10-30
Motivated by a tragic event from his past, Jace throws all the power of the Sentinel Services into finding the Mutant Underground Way Station. Meanwhile, Blink's vivid dreams lead her to confront Dreamer.
6: got your siX - Aired: 2017-11-06
Thunderbird coordinates a mission to discover what Sentinel Services had done to an old friend of his and Lauren encounters a new friend with useful powers.
7: eXtreme measures - Aired: 2017-11-13
Eclipse's ex-lover returns; Reed and Sage find alarming information about Lauren's new friend; Thunderbird helps Blink open up about her past; Jace approves a special surveillance program.
8: threat of eXtinction - Aired: 2017-11-20
The group faces a threat when they discover a new refugee is a spy working for Sentinel Services; Reed visits his estranged father and learns secrets that could prove useful.
9: outfoX - Aired: 2017-12-04
The team develops a risky plan to help mutants who are in Sentinel Services' custody. Reed reveals details to Andy and Lauren about the Struckers' family history that could prove to be a game-changer.
10: eXploited - Aired: 2017-12-11
At a moral crossroads, Jace is forced to hand over something valuable to Dr. Campbell. The team at Mutant HQ is divided on what they should do next, so Reed and Caitlin take matters into their own hands.
11: 3 X 1 - Aired: 2018-01-01
As tensions heat up among the team at Mutant HQ, no one knows who they can trust. Fearing for his family's safety, Reed rethinks their future at the compound. Meanwhile, Dr. Campbell proposes an improved program to Jace that could change everything.
12: eXtraction - Aired: 2018-01-15
Dr. Campbell attends an anti-mutant summit, attempting to take the Hound program national, and some of the team at Mutant HQ goes on a dangerous mission to stop his efforts.
13: X-roads - Aired: 2018-01-15
Polaris learns more about her past and makes a crucial decision that could have impactful consequences. Meanwhile, the Mutant HQ comes under attack and, with everything to lose, relationships are put to the test and alliances shift.
Season 2 (1 Episode)
1: eMergence - Aired: 2018-09-25
Reeva Payge purges the Inner Circle of those who disagree with her, leaving her completely in charge. Then, fast-forward six months, when the Mutant Underground saves a girl, but not her family, from a Sentinel raid. Against the group's wishes, Eclipse and Caitlin meet with a criminal hacker to get info on the Inner Circle. Meanwhile, Polaris prepares for the birth of her baby, her contractions magnetizing anything metal and wreaking havoc. She also makes Andy promise to save the baby, no matter what.