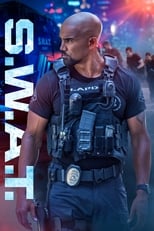 General Information
Glossary: S
First Air Date: November 2nd, 2017
Last Air Date: January 18th, 2018
Created By: Aaron Rahsaan Thomas
Star Casts: Shemar Moore, Stephanie Sigman, Kenny Johnson, Jay Harrington, David Lim, Lina Esco, Peter Onorati, Alex Russell
Aired On: CBS
Episode Runtime: 42 minutes
Total Seasons: 1 Season
Total Episodes: 11 Episodes
Type: Scripted
Status: Returning Series
Homepage: CBS - S.W.A.T.

Last Updated: Sat, 20 Jan 2018 09:50:46 +0000
Sponsored Links
Ratings
User Rating:
Backdrops Gallery (3 Images)
S.W.A.T. (2017)
Follows a locally born and bred S.W.A.T. lieutenant who is torn between loyalty to the streets and duty to his fellow officers when he's tasked to run a highly-trained unit that's the last stop for solving crimes in Los Angeles.
Seasons and Episodes
Season 1 (11 Episodes)
1: Pilot - Aired: 2017-11-02
A locally born SWAT sergeant, former Marine Daniel "Hondo" Harrelson, is newly tasked to run a specialized tactical unit that is the last stop in law enforcement in Los Angeles.
2: Cuchillo - Aired: 2017-11-09
Hondo and the SWAT team spread out across Los Angeles in pursuit of four escaped convicts, including a violent criminal Jessica helped bring to justice, before department rival Mumford and his team beat them to the collars. Also, Hondo's new role as team leader is called into question when Street displays a flagrant disregard for SWAT protocol.
3: Pamilya - Aired: 2017-11-16
Newcomer Jim Street jeopardizes his spot on Hondo's team when he agrees to do a favor for his incarcerated mother that endangers his SWAT career. Also, the SWAT team searches for the ruthless mastermind behind a drug trafficking ring that forces immigrants to be mules.
4: Radical - Aired: 2017-11-23
After a domestic bomber dies in a Highland Park explosion, the SWAT team races to find the man's partner before more devices detonate. Also, Hondo reaches out to Buck, his former team leader, when he worries he is isolating himself after his recent firing.
5: Imposters - Aired: 2017-11-30
When a series of home invasions are committed by SWAT imposters in an upscale neighborhood, Hondo and the team suspect the burglarized families are all hiding something. Also, when Deacon and Luca are assigned to protect a visiting professional hockey player who is receiving death threats, his penchant for trouble becomes a complication.
6: Octane - Aired: 2017-12-07
Hondo puts aside his misgivings about Jim Street's recklessness and allows the newbie to go undercover as a broker in a luxury car theft ring to bust a ruthless trafficker. Also, Hondo visits Raymont Harris, the teenager recently shot by a former member of the SWAT team, who is dealing with PTSD.
7: Homecoming - Aired: 2017-12-14
When Hondo's imprisoned childhood friend asks him to protect his son from gang violence, the favor brings SWAT into contact with a new local crime outfit. Also, when Luca's grandfather, a SWAT legend, passes away, he struggles with his grief and a painful family secret.
8: Miracle - Aired: 2017-12-21
Hondo and the SWAT team are forced to work over their Christmas vacation when a drug cartel is out for blood after their cache of gold bars is stolen. Also, Jessica draws the attention of Michael Plank, president of the Police Commission, when she approaches him with her ideas on how to improve the SWAT division.
9: Blindspots - Aired: 2018-01-04
When a misconduct complaint filed against Hondo gets him taken off active duty, Deacon steps up to lead the team in finding a robbery crew that is hitting marijuana dispensaries. Also, when Tan notices a similarity between the current robberies and a case from his time with Hollywood LAPD, he asks for help from an informant with whom he has a complicated history.
10: Seizure - Aired: 2018-01-11
As the SWAT team goes inside a prison riot to rescue civilian hostages, Hondo suspects the inmates have an ulterior motive behind the uprising. Also, when Deacon's wife, Annie, stops by headquarters to celebrate Deacon's 10th anniversary with the SWAT division, her visit takes an unexpected turn.
11: K-Town - Aired: 2018-01-18
Hondo teams up with an old DEA friend, Special Agent Katrina "K.C." Walsh, on a task force aimed at unmasking the secret leader of a fentanyl drug smuggling ring. Also, Jessica and Michael Plank, president of the Police Commission, begin implementing her new law enforcement community initiatives.