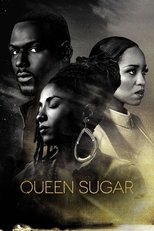 General Information
Glossary: Q
First Air Date: September 6th, 2016
Last Air Date: November 15th, 2017
Created By: Ava DuVernay
Star Casts: Rutina Wesley, Dawn-Lyen Gardner, Kofi Siriboe, Nicholas L. Ashe, Dondre Whitfield, Omar J. Dorsey, Greg Vaughan, Tina Lifford
Aired On: Oprah Winfrey Network
Episode Runtime: 60 minutes
Total Seasons: 2 Seasons
Total Episodes: 29 Episodes
Type: Scripted
Status: Returning Series
Homepage: Oprah Winfrey Network - Queen Sugar

Last Updated: Wed, 29 Nov 2017 21:33:42 +0000
Sponsored Links
Ratings
User Rating:
Backdrops Gallery (2 Images)
Queen Sugar
The series follows the life of two sisters, Nova Bordelon and Charley Bordelon, who, with her teenage son Micah moves to the heart of Louisiana to claim an inheritance from her recently departed father - an 800-acre sugarcane farm.
Seasons and Episodes
Season 1 (13 Episodes)
1: First Things First - Aired: 2016-09-06
A woman gives up her upscale Los Angeles lifestyle to return home to a large sugarcane farm in Louisiana after her father suffers a stroke; she reunites with her estranged siblings and learns alarming news about her husband.
2: Evergreen - Aired: 2016-09-07
The Bordelon siblings try to plan their father's funeral but tensions arise between Charley and Nova; Ralph Angel argues with Aunt Violet about inviting his son; Charley meets someone interested in buying the farm.
3: Thy Will Be Done - Aired: 2016-09-14
Charley, Ralph Angel and Nova discover the contents of their father's will and consider running their newly inherited farm together; Ralph Angel is pushed to his limits when someone tries to take one of his father's possessions.
4: The Darker Sooner - Aired: 2016-09-21
Ralph Angel tries to run the farm while the other siblings return to their everyday lives; Nova thinks that a friend's son has been wrongly imprisoned and tries to help; Charley resumes managing her husband despite their stained relationship.
5: By Any Chance - Aired: 2016-09-28
Nova's romantic relationship with Calvin, a local cop, becomes strained in her pursuit of justice; Charley faces her husband's accuser; Aunt Violet receives unwelcome feedback at work.
6: As Promised - Aired: 2016-10-05
Nova's public comments about Charley's marriage causes a rift between the two; Ralph Angel tries to get out of an illegal arrangement; Charley learns what Davis did during the night in question.
7: In No Uncertain Terms - Aired: 2016-10-12
Charley deals with the state of her marriage; Ralph Angel decides to farm full time; Aunt Violet finds out information about Hollywood that threatens their relationship.
8: Where With All - Aired: 2016-10-26
As the Bordelons prepare for a hurricane, many of the family's underlying issues are brought to the surface. The incoming storm threatens the farm, and while preparing to protect their property, Remy calls into question Charley's treatment of her staff.
9: Next to Nothing - Aired: 2016-11-02
As the siblings work together to repair the damage caused by the hurricane, Charley, Ralph Angel and Remy are shocked to discover two corpses on their property.
10: So Far - Aired: 2016-11-09
Charlie searches for a new mill; and realizes that there's more to the story of the land than originally thought. In other events, Hollywood again tries to mend his relationship with Aunt Violet.
11: All Good - Aired: 2016-11-16
The Bordelons must find a new mill, but with mounting expenses, they need a feasible solution. Charley makes a big step in putting her past with Davis behind her, but when Micah accidentally learns about Charley and Remy's new relationship, she is overwhelmed with guilt. Too Sweet returns with doubts about his future, and Nova encourages him to change his point of view. Ralph Angel and Darla unite to help Blue navigate issues at school, and Violet makes changes to the diner.
12: Far Too Long - Aired: 2016-11-23
No overview available.
13: Give Us This Day - Aired: 2016-11-30
No overview available.
Season 2 (16 Episodes)
1: After the Winter - Aired: 2017-06-20
Charley and Davis remain entangled, Ralph Angel tries to find his footing on the family farm and Aunt Violet confronts her feelings for Hollywood. Plus, Micah has a dangerous encounter with a police officer and Nova deals with the loss of her relationship with Calvin and later holds a community fundraiser.
2: To Usward - Aired: 2017-06-21
Ralph Angel has an idea for the farm. Charley is blindsided during her final divorce mediation with Davis. Nova holds a community fundraiser. Aunt Violet learns that Hollywood might have been involved in a life-threatening accident.
3: What Do I Care For Morning - Aired: 2017-06-28
Micah finds solace at Nova's place. Charley confronts Davis about their custody arrangement. Aunt Violet's time with Hollywood might be short-lived. Nova meets someone at a symposium. Ralph Angel confronts Jacob Boudreaux about spying on his property.
4: My Soul's High Song - Aired: 2017-07-05
Charley searches for a more permanent home for Micah. A whitefly infestation threatens the farm. Nova adjusts to a new editor who wants her to change her approach. Darla makes a decision that has serious consequences.
5: Caroling Dusk - Aired: 2017-07-12
Charley's therapist appointment brings to light childhood issues. Nova reunites with Dr. Robert Dubois. Davis meets an intriguing singer. Ralph Angel meets an old friend during a high-pressured situation. Darla finds an unexpected job.
6: Line of Our Elders - Aired: 2017-07-19
Charley's opening celebration for the Queen Sugar Mill suffers a setback, and Nova learns a surprising fact about her late father. Plus, Ralph Angel has a run-in with someone he previously robbed, prompting a huge confession to his family.
7: I Know My Soul - Aired: 2017-07-26
Ralph Angel's confession continues to cause unrest in the family, and his appeal to Darla for emotional support conflicts with Charley's wishes. Meanwhile, Nova learns something surprising about Violet, and Charley and Davis have differing opinions about how to announce their divorce.
8: Freedom's Plow - Aired: 2017-08-02
Darla reaches out to her family to share her big news. Violet's condition worsens. Nova's Zika story causes concern in the community. Micah finally comes to terms with his emotions. Charley receives an unexpected visit from her mother, and the two have an honest conversation about Charley's upbringing.
9: Yet Do I Marvel - Aired: 2017-10-03
Darla reaches out to her family to share her engagement news. Violet's condition worsens. Nova's Zika story causes concern in the community. Micah finally comes to terms with his emotions. Charley receives an unexpected visit from her mother.
10: Drums at Dusk - Aired: 2017-10-04
An unexpected encounter creates issues between Ralph Angel and Darla. The presence of Charley's mother Lorna gives rise to old tensions in the family. Violet finally sees a doctor about her recurring symptoms.
11: Fruit of the Flower - Aired: 2017-10-11
Nova and Robert's relationship begins to shift. Ralph Angel feels humiliated by Remy. Hollywood and Violet clash over Hollywood's new friend. Lorna finally reveals the true history of her relationship with Nova and Ralph Angel's father.
12: Live in the All Along - Aired: 2017-10-18
Nova and Robert's relationship hits a major setback. Darla and Ralph Angel plan their upcoming wedding. Davis offers Charley help with her harvest festival. Later, Davis and Charley realize they've both moved on in new relationships. Davis makes amends.
13: Heritage - Aired: 2017-10-25
Remy and Charley question whether they are on the same page in their relationship, Violet receives a life-changing diagnosis, and Nova comes across someone she once loved dearly. Meanwhile, Darla's parents visit the farm, and she reveals a devastating secret to Ralph Angel.
14: On These I Stand - Aired: 2017-11-01
Ralph Angel is left devastated by Darla's news; Charley's business is threatened. Micah has an issue with his school. Nova receives a new opportunity. Violet reveals her diagnosis to Hollywood.
15: Copper Sun - Aired: 2017-11-08
Charley fires Darla after learning that she's lied to her family. Micah gets suspended from school. Hollywood promises to fulfill Violet's wish list. Jacob Boudreaux suggests he and Charley form a partnership.
16: Dream Variations - Aired: 2017-11-15
Charley's shocking plan to save her business puts her relationship with Remy in jeopardy. Hollywood proposes to Violet. Nova and Remy share an unexpected moment. Ralph Angel decides if he can forgive Darla.