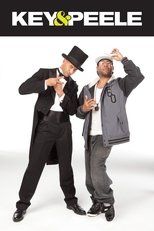 General Information
Glossary: K
First Air Date: January 31st, 2012
Last Air Date: September 9th, 2015
Created By: Keegan-Michael Key
Star Casts: Keegan-Michael Key, Jordan Peele
Aired On: Comedy Central
Episode Runtime: 20 minutes
Total Seasons: 5 Seasons
Total Episodes: 53 Episodes
Type: Scripted
Status: Ended
Homepage: Comedy Central - Key & Peele

Last Updated: Fri, 29 Jun 2018 09:54:20 +0000
Sponsored Links
Ratings
User Rating:
Backdrops Gallery (6 Images)
Key & Peele
Key & Peele is an American sketch comedy television show. It stars Keegan-Michael Key and Jordan Peele, both former cast members of MADtv. Each episode of the show consists of several pre-taped sketches starring the two actors, introduced by Key and Peele in front of a live studio audience.
Seasons and Episodes
Specials (5 Episodes)
1: DVD Extra - Backstage Interview
No overview available.
2: DVD Extra - Obama's Anger Translator
No overview available.
3: DVD Extra - Outtakes
No overview available.
4: DVD Extra - Poolside Interview
No overview available.
5: Best Of - Aired: 2013-09-11
Get ready for Season 3 with a best-of episode featuring Mr. Garvey, Wendell, Meegan, the guys who said "bitch" and more.
Season 1 (8 Episodes)
1: Bitch - Aired: 2012-01-31
Jordan and Keegan trade stories about a forbidden word, while President Obama's anger gets translated.
2: Black Hawk Up - Aired: 2012-02-07
President Obama rap battles, and a traffic reporter has some trouble flying.
3: Das Negros - Aired: 2012-02-14
Jordan and Keegan are masters of disguise in Nazi Germany, and two slaves are accused of bigotry.
4: The Branding - Aired: 2012-02-21
Luther, President Obama's anger translator, reminds everyone who killed Osama bin Laden.
5: Dueling Magical Negroes - Aired: 2012-02-28
Commitment looms for Jordan and Keegan after gay marriage is finally legalized.
6: Flicker - Aired: 2012-03-06
Jordan and Keegan engage in an epic flicker match, and a flash mob goes terribly wrong.
7: Soul Food - Aired: 2012-03-13
Jordan and Keegan debate who is blacker, and Bobby McFerrin duels Michael Winslow.
8: Landlord - Aired: 2012-03-20
President Obama doesn't get special treatment, and a young Forest Whitaker terrifies his babysitter.
Season 2 (10 Episodes)
1: Obama College Years - Aired: 2012-09-26
A young Barack Obama discovers how inspirational a party can be, and two hitmen get sidetracked.
2: Dubstep - Aired: 2012-10-03
Two friends encounter a racist dog in the park, the flamboyant players of the East/West Collegiate Bowl introduce themselves and a dubstep track derails moving day.
3: Puppy Dog Ice-T - Aired: 2012-10-10
A rescue dog displays a troubling attitude, and Luther provides presidential debate zingers.
4: I'm Retired - Aired: 2012-10-17
A biracial boy has penis concerns, and an inner-city substitute teacher takes roll call.
5: Bone Thugs-n-Homeless - Aired: 2012-10-24
Why are there no more rap groups? Keegan and Jordan have an answer.
6: Michael Jackson Halloween - Aired: 2012-10-31
Noah really gets into his Halloween costume, and white zombies attack.
7: Victory - Aired: 2012-11-07
Luther informs Mitt Romney who won the election, and a non-stop party refuses to stop.
8: Manly Tears - Aired: 2012-11-14
A tough guy cries in front of his crew, and substitute teacher Mr. Nostrand does not play.
9: Gangsta Standoff - Aired: 2012-11-21
Two gang rivals get inside each other's heads, and a police officer hones his act.
10: Dueling Hats - Aired: 2012-11-28
One man's bikini-clad woman is another man's mystery, and two friends step up their hat game.
Season 3 (13 Episodes)
1: Les Mis - Aired: 2013-09-18
A woman confronts her husband on his web surfing habits, a rapper grapples with his hyperactive hype man, and the villain of an epic musical can't get a word in.
2: East/West Bowl Rap - Aired: 2013-09-25
Two women prepare to fight outside a club, and the Valets wonder why people mess with the Batmans.
3: Slap-Ass - Aired: 2013-10-02
Two slaves try to find a way out of fighting to the death, and a member of a Latin gang proves his toughness.
4: Boarding Group One - Aired: 2013-10-09
A passenger finds out that he's far from the first to board, and some breakdancers keep it nooice.
5: Obama Shutdown - Aired: 2013-10-16
The Obamas get intimate, the founding fathers talk gun control, and Metta World Peace makes a wish.
6: Cunnilingus Class - Aired: 2013-10-23
Homies learn how to go down on a lady, and MVP Ozamataz Buckshank rocks a post-game interview.
7: Sexy Vampires - Aired: 2013-10-30
A hotel guest is blown away by the Continental breakfast, and a psycho's victims stay positive.
8: High on Potenuse - Aired: 2013-11-06
A guy learns how to buy drugs in public, and an executive tests a speech for political correctness.
9: Tackle & Grapple - Aired: 2013-11-13
Meegan gets Andre in trouble, and sensei Doug Duggart teaches self-defense for the ladies.
10: Black Ice - Aired: 2013-11-20
Local news anchors warn viewers about the dangers of "black ice," Lando Calrissian deals with an admirer, and Metta World Peace gives tips to homemakers.
11: The Power of Wings - Aired: 2013-11-27
A pawn shop customer asks after some suspicious items, Wendell makes a vanity video, and Karim and Jahar go to the gym.
12: East/West Bowl 2 - Aired: 2013-12-11
The players in the 2013 East/West Bowl introduce themselves, a suspect landlord searches a tenant's apartment, and Metta World Peace explores his physical limitations.
13: Pussy on the Chainwax - Aired: 2013-12-18
Some friends argue over whether a new slang phrase is a "thing," a man learns the truth about his father's Hollywood past, and the valets come to Anne Hathaway's defense.
Season 4 (11 Episodes)
1: Alien Impostors - Aired: 2014-09-24
The survivors of an alien invasion find out whom they can trust, a family comes to terms with a relative's gay wedding, a couple of racists express some surprising views, a drill sergeant sings an unconventional marching song, and a pop sensation answers questions from her fans.
2: Parole Officer Puppet - Aired: 2014-10-01
A parole officer uses a puppet to connect with convicts, a man in a neck brace attempts to party down, a Nazi officer tells the story of the time he saw Hitler, and Levi goes steampunk.
3: Old Ladies and Satan - Aired: 2014-10-08
Two old women battle with Satan, things go awry when a man goes mattress shopping, and dance club patrons are forced to face the truth about themselves.
4: Slap-Ass: In Recovery - Aired: 2014-10-15
A mobster seeking vengeance on someone who wronged him, a baseball player fighting an addiction to unwanted bodily contact, and Family Matters' Steve Urkel driving a man insane.
5: Concussion Quarterback - Aired: 2014-10-22
A concussed football player cheering his team on, a man accusing his wife of being unfaithful, and a restaurateur scaring away his customers.
6: Scariest Movie Ever - Aired: 2014-10-29
Sketches include a vampire revealing himself, the thwarting of a serial killer, and a child getting his wish.
7: Sex Detective - Aired: 2014-11-05
A detective puts himself in the mind of a perpetrator, a retro action hero infiltrates a villain's compound, and President Obama addresses the critics within his party.
8: Terrible Henchman - Aired: 2014-11-12
A henchman keeps interrupting his boss's torture session, a speaker at a school assembly discusses his colorful life, and a man tries to prove he's all grown up.
9: Aerobics Meltdown - Aired: 2014-11-19
Sketches include Stan Lee pitching new superheroes, a man losing his street cred, and a man creating a mnemonic device to remember a parking spot.
10: Sex Addict Wendell - Aired: 2014-12-03
Wendell attends a support group for sex addicts, a teacher has trouble calming down a class clown, and two jazz musicians have a scat battle.
11: Terrorist Meeting - Aired: 2014-12-10
A group of terrorists decries the TSA, Carlito tries to prove he's the loco-est member of his gang, and Meegan has trouble finding her seat at a movie theater.
Season 5 (11 Episodes)
1: Y'all Ready For This? - Aired: 2015-07-08
Season 5 premiere sketches include a football team getting psyched up before a game; President Obama and Luther meeting Hillary Clinton; two men discussing potential threats on a flight; a band of pirates singing a chantey. Also: a trigger-happy cop.
2: Airplane Showdown - Aired: 2015-07-15
An airline passenger has a standoff with a flight attendant, Shaboots and T-Ray deliver a lecture on women's periods, and a prayer group receives a visit from God.
3: A Cappella Club - Aired: 2015-07-22
Two black students compete for a cappella supremacy, Andre and Meegan go on their first date, and would-be terrorists get caught up in the food truck business.
4: Severed Head Showcase - Aired: 2015-07-29
A gospel group must practice without its coach, a group of warriors celebrate a beheading, a prisoner tries to trick his guard, a young man is confronted for only speaking in catchphrases.
5: Killer Concept Album - Aired: 2015-08-05
A politician denies sending lewd photos; a detective interrogates a rapper; Cedric and Levi find lightning in a bottle; two Southern gentlemen compliment women; Jordan runs into an old friend; a cop takes things literally.
6: The Job Interview - Aired: 2015-08-12
Judge Jessie has a new show; a man waits for his job interview; two ladies catch up over drinks; the valets discuss Val Kilmer; a retired military specialist is briefed on a new project; a woman introduces her fiancé to her parents.
7: MC Mom - Aired: 2015-08-19
A gangster participates in a drive-by; a mom writes a song for her son; two scam artists compete with each other; an "Undercover Boss" reveals himself; Big Boi runs into André 3000; two guys get into a car accident.
8: Hollywood Sequel Doctor - Aired: 2015-08-26
A tickle game between two friends gets a little strange; brainstorming for "Gremlins 2"; a man deals with an unruly office janitor; two thugs suspect their friend snitched; Keegan and Jordan discuss Africa at a party.
9: The 420 Special - Aired: 2015-09-02
Neil deGrasse Tyson relaxes at home; Keegan endures a job interview; a tailor has a gassy client; the valets discuss "Game of Thrones"; a new strategy for telemarketing.
10: Meegan & Andre Break Up - Aired: 2015-09-09
Two friends get into an argument at a club; Meegan and André talk about their relationship; a rapper walks out of an interview; Conrad flies business select; Keegan has a new mustache.
11: The End - Aired: 2015-09-09
Ray Parker Jr. has some new songs; a man can't stop saying "deez nuts"; Keegan has to call 911; a young man learns about Negrotown.