General Information
Glossary: G
First Air Date: June 23rd, 2017
Last Air Date: June 29th, 2018
Created By: Liz Flahive, Carly Mensch
Star Casts: Alison Brie, Britt Baron, Kim Gatewood, Rebekka Johnson, Kia Stevens, Jackie Tohn, Rich Sommer, Kate Nash, Ellen Wong, Betty Gilpin, Sunita Mani, Sydelle Noel, Gayle Rankin, Marc Maron, Britney Young
Aired On: Netflix
Episode Runtime: 35 minutes
Total Seasons: 3 Seasons
Total Episodes: 21 Episodes
Type: Scripted
Status: Returning Series
Homepage: Netflix - GLOW

Last Updated: Mon, 17 Jun 2019 22:56:08 +0000
Sponsored Links
Ratings
User Rating:
Backdrops Gallery (6 Images)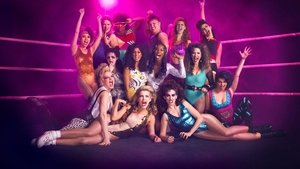 GLOW
In 1980s LA, a crew of misfits reinvent themselves as the Gorgeous Ladies of Wrestling.
Seasons and Episodes
Season 1 (10 Episodes)
1: Pilot - Aired: 2017-06-23
Desperate to jump-start her career, struggling actress Ruth heads to a casting call at an LA gym -- and quickly realizes it's not a typical audition.
2: Slouch. Submit. - Aired: 2017-06-23
Cherry tries to whip the final group into shape, while Sam sets out in pursuit of a star for his show. Ruth acts out an uncomfortable scene.
3: The Wrath of Kuntar - Aired: 2017-06-23
Sam's flashy young producer drops in and whisks the girls off to Malibu to party. But artistic differences soon threaten to spoil the fun.
4: The Dusty Spur - Aired: 2017-06-23
With just five weeks left to crank out a show, Sam and Bash move all the ladies into a motel. Ruth struggles to nail down a memorable character.
5: Debbie Does Something - Aired: 2017-06-23
Debbie attends her first wrestling match and has a major epiphany. Meanwhile, Ruth finally finds the inspiration for her alter ego.
6: This Is One of Those Moments - Aired: 2017-06-23
Sam searches for the perfect "heel" to fight Debbie, but she's tough to please. To hone her act, Ruth tags along with Gregory to a family function.
7: Live Studio Audience - Aired: 2017-06-23
As the women prepare for their first live match, Debbie and Ruth seek outside help with their moves, and Rhonda gives Sam a good-luck gift.
8: Maybe It's All the Disco - Aired: 2017-06-23
Jenny whips up a party for Sheila's birthday while Sam helps Ruth deal with a new complication in her personal life. Mark changes his tune with Debbie.
9: The Liberal Chokehold - Aired: 2017-06-23
With the show's future in jeopardy, Bash and the ladies search for creative way to drum up cash. A pair of revelations leaves Sam reeling.
10: Money's in the Chase - Aired: 2017-06-23
On the day of the big taping, Sam attends to unfinished personal business, while Ruth scrambles to make last-minute changes to the lineup.
Season 2 (10 Episodes)
1: Viking Funeral - Aired: 2018-06-29
Nerves run high as the ladies return to work and meet a new cast member. To boost morale, Ruth takes the gang on a raucous outing to the mall.
2: Candy of the Year - Aired: 2018-06-29
The ladies get creative when Sam forces them to compete for airtime. Debbie discovers the producer life isn't quite what she'd hoped.
3: Concerned Women of America - Aired: 2018-06-29
Ruth connects with a fellow film lover and helps Debbie cook up a PSA to appease an angry women's group. Cherry struggles on the set of her new show.
4: Mother of All Matches - Aired: 2018-06-29
On the day of the big match between Welfare Queen and Liberty Belle, Tammé visits her son at Stanford, and Debbie hits an emotional wall.
5: Perverts Are People, Too - Aired: 2018-06-29
A request from the network puts the producers on edge, the wrestlers capitalize on their growing fan base, and Ruth receives a surprising invitation.
6: Work the Leg - Aired: 2018-06-29
Facing new competition, the women vow to amp up their wrestling. A startling discovery changes Sam's outlook on the show.
7: Nothing Shattered - Aired: 2018-06-29
After an injury on set, Sam and the wrestlers rush to the hospital and wait anxiously for news. A long-simmering feud finally boils over.
8: The Good Twin - Aired: 2018-06-29
It's the moment you've been waiting for: A straight-to-the-airwaves episode of "GLOW," complete with dream sequences, music videos and epic wrestling.
9: Rosalie - Aired: 2018-06-29
As the ladies begin to plan for life after the show, Justine's mom shows up on Sam's doorstep, and Bash and Debbie scheme to woo buyers at a TV expo.
10: Every Potato Has a Receipt - Aired: 2018-06-29
Wedding bells are ringing as the wrestlers step through the ropes for the big finale. But last-minute twists catch everyone off guard.
Season 3 (1 Episode)
1: Episode 1 - Aired: 2019-08-09
No overview available.