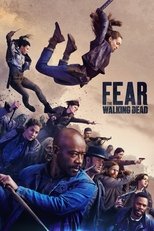 General Information
Glossary: F
First Air Date: August 23rd, 2015
Last Air Date: September 29th, 2019
Created By: Robert Kirkman, Dave Erickson
Star Casts: Alycia Debnam-Carey, Colman Domingo, Danay García, Rubén Blades, Lennie James, Garret Dillahunt, Maggie Grace, Jenna Elfman, Alexa Nisenson, Austin Amelio, Karen David
Aired On: AMC
Episode Runtime: 43 minutes
Total Seasons: 5 Seasons
Total Episodes: 69 Episodes
Type: Scripted
Status: Returning Series
Homepage: AMC - Fear the Walking Dead

Last Updated: Tue, 15 Oct 2019 16:19:55 +0000
Sponsored Links
Ratings
User Rating:
Backdrops Gallery (22 Images)
Fear the Walking Dead
What did the world look like as it was transforming into the horrifying apocalypse depicted in "The Walking Dead"? This spin-off set in Los Angeles, following new characters as they face the beginning of the end of the world, will answer that question.
Seasons and Episodes
Specials (24 Episodes)
1: Flight 462: Part 1 - Aired: 2015-10-04
A routine flight takeoff is interrupted by an anxious passenger, a woman who knows more than she's saying, and a distant scream on the other end of the phone. The pilot episode has been available online since October 4, 2015.
2: Flight 462: Part 2 - Aired: 2015-10-11
As the plane takes off, Jake tries desperately to text his mother, while Marcus vomits into a bag as his wife tries to comfort him.
3: Flight 462: Part 3 - Aired: 2015-10-18
The flight attendants begin to serve drinks throughout the cabin, and Jake has a short discussion with Connie about how he ended up on the plane without his mother.
4: Flight 462: Part 4 - Aired: 2015-10-25
Marcus starts to feel sick and urgently has to use the lavatory. His wife claims, he suffers from reflux.
5: Flight 462: Part 5 - Aired: 2015-11-01
The passengers are asked to prepare for the descent to Phoenix. As Marcus is still in the bathroom, the flight attendants urge him to come out.
6: Flight 462: Part 6 - Aired: 2015-11-15
As a blackout continues to roll across Phoenix, Charlie urges Deirdre not to open the door. Suddenly, the bathroom door opens and Marcus falls out, unconscious.
7: Flight 462: Part 7 - Aired: 2015-11-23
The passengers learn what they're up against as the plane re-routes from Phoenix to Los Angeles.
8: Flight 462: Part 8 - Aired: 2015-11-30
Anthony, an U.S. Air Marshal demands that all the passengers return to their seats, despite Charlie's warning that Marcus is now dangerous.
9: Flight 462: Part 9 - Aired: 2016-02-14
Marcus has turned into a walker and after a struggle the group shoves him back into the bathroom. Once he is secured they notice blood on themselves and determine that Deirdre was scratched on the arm.
10: Flight 462: Part 10 - Aired: 2016-02-21
Charlie tells Anthony to secure Deirdre since she has been bit and will turn like Marcus. Charlie tries to convince the Captain to land the plane, but all the cities are experiencing power loss.
11: Flight 462: Part 11 - Aired: 2016-02-28
No overview available.
12: Flight 462: Part 12 - Aired: 2016-03-06
No overview available.
13: Flight 462: Part 13 - Aired: 2016-03-13
No overview available.
14: Flight 462: Part 14 - Aired: 2016-03-20
No overview available.
15: Flight 462: Part 15 - Aired: 2016-03-27
As the airplane cabin depressurizes, the passengers struggle to find available seats and strap on oxygen masks. Charlie and Jake buckle in next to each other and she makes a startling revelation to him.
16: Flight 462: Part 16 - Aired: 2016-04-03
No overview available.
28: A Look Ahead at Season 2B - Aired: 2016-08-18
A preview of Season 2B
29: Passage: Part 1 - Aired: 2016-10-17
No overview available.
30: Passage: Part 2 - Aired: 2016-10-24
No overview available.
31: Passage: Part 3 - Aired: 2016-10-31
No overview available.
32: Passage: Part 4 - Aired: 2016-11-07
No overview available.
34: Passage: Part 6 - Aired: 2016-11-27
No overview available.
36: Passage: Part 8 - Aired: 2016-12-10
No overview available.
43: Passage: Part 15 - Aired: 2017-03-26
No overview available.
Season 1 (6 Episodes)
1: Pilot - Aired: 2015-08-23
A highly dysfunctional blended family is forced together when they realize a reported virus is actually the onset of the undead apocalypse.
2: So Close, Yet So Far - Aired: 2015-08-30
While Madison struggles to keep Nick from crippling withdrawal, Travis ventures out to find his son before the city of Los Angeles falls.
3: The Dog - Aired: 2015-09-13
After they escape a riot, Travis, Liza and Chris seek refuge with the Salazars; Madison defends her home.
4: Not Fade Away - Aired: 2015-09-20
Madison and Travis see different sides of the National Guard's occupation in their neighborhood; the family tries to adapt to the new world.
5: Cobalt - Aired: 2015-09-27
The National Guard's plan for the neighborhood is revealed; Travis and Madison make a difficult decision.
6: The Good Man - Aired: 2015-10-04
As civil unrest grows, and the dead take over, Travis and Madison try to devise ways to protect their families.
Season 2 (15 Episodes)
1: Monster - Aired: 2016-04-10
After fleeing a burning Los Angeles on Strand's yacht, tensions arise among the group. Strand remains mysterious. Our group encounters danger at sea.
2: We All Fall Down - Aired: 2016-04-17
The group seeks shelter with a survivalist family; and Madison tries to uncover the family's true motives. Meanwhile, Salazar works to discover Strand's intentions.
3: Ouroboros - Aired: 2016-04-24
Madison confronts Strand about his mysterious destination. Meanwhile, Nick, Alicia and others inspect wreckage from a plane crash.
4: Blood in the Streets - Aired: 2016-05-01
A family in distress boards the Abigail. Strand branches off and his past begins to emerge. Nick searches for an associate of Strand's.
5: Captive - Aired: 2016-05-08
Alicia works toward reuniting with her family. Travis comes across a familiar face. Madison and Nick try to save their family against all odds.
6: Sicut Cervus - Aired: 2016-05-15
Conflict arises as the Abigail approaches its destination. Chris makes a staggering decision. Nick meets a new maternal figure.
7: Shiva - Aired: 2016-05-22
The family faces their biggest test yet; Nick, Madison, Travis and others try to stay close to each other.
8: Grotesque - Aired: 2016-08-21
Nick's search for answers leads him into a deadly dog-eat-dog landscape. A dark time from his past is uncovered.
9: Los Muertos - Aired: 2016-08-28
After the fall of the compound, Madison, Strand and others forge a tenuous path forward. Meanwhile, Nick is recruited for a perilous assignment.
10: Do Not Disturb - Aired: 2016-09-04
Travis has a hard time connecting with Chris while looking for shelter; Alicia meets a woman with a bloody past.
11: Pablo & Jessica - Aired: 2016-09-11
Alicia and Madison try to bring two competing factions together; Nick uses skills from his past for his new role.
12: Pillar of Salt - Aired: 2016-09-18
At the Colonia, Alejandro reveals his darker side; a hotel resident becomes violent and Madison springs into action.
13: Date of Death - Aired: 2016-09-25
Madison struggles to cope as a large number of refugees flood into the hotel, including someone familiar but unexpected.
14: Wrath - Aired: 2016-10-02
Travis is thrown off by new refugees; Nick must decide if he's going to stay at the Colonia with Luciana or leave.
15: North - Aired: 2016-10-02
When Travis' rage causes unrest at the hotel, Madison has to choose whether or not she will stand by him; Nick becomes leader of the Colonia as Narcos close in.
Season 3 (16 Episodes)
1: Eye of the Beholder - Aired: 2017-06-04
The Clark family find themselves in a dire predicament. They must work together to discover a path to safety.
2: The New Frontier - Aired: 2017-06-04
Following a harrowing journey, the Clark family arrive at their new home. Strand faces resistance as he attempts to hold power over his domain.
3: TEOTWAWKI - Aired: 2017-06-11
Still finding their place, Alicia and Nick fall in with new crowds while Madison discovers Otto's past mimics that of her own.
4: 100 - Aired: 2017-06-18
A mysterious character searches for purpose and soon becomes tied to the struggle over a key resource in the apocalypse.
5: Burning in Water, Drowning in Flame - Aired: 2017-06-25
A new threat reveals itself to Madison and Troy as they search for answers. Alicia must reconcile with her past decisions.
6: Red Dirt - Aired: 2017-07-02
News of incoming danger spreads throughout the community as Madison struggles to keep everyone together. Nick grapples with a hard truth.
7: The Unveiling - Aired: 2017-07-09
A new arrival sows a divide within the ranch. Meanwhile, Alicia forms a new relationship in the hopes of maintaining peace.
8: Children of Wrath - Aired: 2017-07-09
Madison must negotiate the terms of an agreement in the midst of ranch-wide turmoil. Nick and Alicia challenge their mother's motives.
9: Minotaur - Aired: 2017-09-10
In the aftermath of the Clark family's actions, new leadership assumes control of the Ranch. Daniel assists Lola in the distribution of water.
10: The Diviner - Aired: 2017-09-10
With the Ranch dangerously low on resources, Madison and Walker leave in search of a solution. Nick and Alicia struggle to keep the peace.
11: La Serpiente - Aired: 2017-09-17
Following the rekindling of an old friendship, a mission is launched to replenish the Ranch's water supply by seeking the help of another community.
12: Brother's Keeper - Aired: 2017-09-24
Nick and Jake set out to handle a delicate situation; the Ranch prepares for a threat greater than any they've faced before.
13: This Land is Your Land - Aired: 2017-10-01
With the Ranchers trapped and without hope, Alicia is thrust into a position of leadership where she's forced to make life-changing decisions.
14: El Matadero - Aired: 2017-10-08
Alicia encounters a potential ally; Ofelia fights for survival; Nick uses his skill set for profit.
15: Things Bad Begun - Aired: 2017-10-15
Strand's motives are made clear when Nick discovers a new threat descending on the dam.
16: Sleigh Ride - Aired: 2017-10-15
Madison faces a horrifying revelation.
Season 4 (16 Episodes)
1: What's Your Story? - Aired: 2018-04-15
A lone traveler's wearying journey is interrupted by new acquaintances, some who become friend, others who become foe.
2: Another Day in the Diamond - Aired: 2018-04-22
A troubled survivor finds allies in an unexpected place. Meanwhile, the life Madison has fought to build comes under threat.
3: Good Out Here - Aired: 2018-04-29
Madison and Morgan try to help Nick find inner peace. A quest for revenge exacts its toll on the group.
4: Buried - Aired: 2018-05-06
Al's questioning uncovers some surprising truths about the group's past. John Dorie receives unexpected news.
5: Laura - Aired: 2018-05-13
The arrival of a wounded visitor in John Dorie's life forces him to change his ways.
6: Just in Case - Aired: 2018-05-20
Strand wrestles with Madison's decisions. Things take an unexpected turn at the Stadium.
7: The Wrong Side of Where You Are Now - Aired: 2018-06-03
Madison's decision to help an adversary has unintended consequences. Meanwhile, John Dorie's life hangs in the balance.
8: No One's Gone - Aired: 2018-06-10
Madison fights to preserve the life she worked so hard to build. Morgan tries to do the right thing.
9: People Like Us - Aired: 2018-08-12
Morgan tries to help Alicia and the fractured group of survivors as a storm brews.
10: Close Your Eyes - Aired: 2018-08-19
Alicia's forced to reckon with an agonizing past while seeking refuge from a storm.
11: The Code - Aired: 2018-08-26
Morgan's journey is derailed by some new acquaintances.
12: Weak - Aired: 2018-09-02
June helps when Al's health deteriorates; Morgan searches for friends lost in the storm.
13: Blackjack - Aired: 2018-09-09
Strand and Dorie are marooned. Luciana aids a man in need. The group's efforts to help a stranger put everyone in danger.
14: MM 54 - Aired: 2018-09-16
Difficult decisions lead the group into uncertainty. Alicia delivers on a promise to Charlie.
15: I Lose People... - Aired: 2018-09-23
The group's hope falters as they seek a way out. Alicia and Charlie reunite with friends.
16: ... I Lose Myself - Aired: 2018-09-30
Morgan struggles to find the strength to help friends in dire need before it's too late.
Season 5 (16 Episodes)
1: Here to Help - Aired: 2019-06-02
Lead by Morgan and Alicia, the group lands in uncharted territory in search of survivors to help. But everything is not as it seems in this foreboding new land.
2: The Hurt That Will Happen - Aired: 2019-06-09
Morgan and Alicia meet a survivor and learn of a grave new walker threat. Meanwhile, the mission is put to the test when one of their own goes missing. Elsewhere, Strand makes contact.
3: Humbug's Gulch - Aired: 2019-06-16
June and John take shelter to hide from a threat, but a misunderstanding with a desperate survivor leads to trouble. Meanwhile, Alicia and Morgan face a dangerous obstacle.
4: Skidmark - Aired: 2019-06-23
Charlie makes a friend, while Strand, Wendell, and Sarah's rescue mission hits a snag. Elsewhere, Alicia, Luciana, and Morgan struggle to fulfill their mission.
5: The End of Everything - Aired: 2019-06-30
Althea chases a story with dogged determination, putting the mission, and her life, in danger.
6: The Little Prince - Aired: 2019-07-07
Facing impossible odds, Luciana and the group work together to tackle an impossible task while Morgan helps prevent disaster. Elsewhere, an old friend presents Sarah, Charlie, and Strand with a solution
7: Still Standing - Aired: 2019-07-14
Strand and Charlie seek safety. Dorie helps Dwight on his quest. Morgan stays focused on the greater mission. Elsewhere, Alicia refuses to give up.
8: Is Anybody Out There? - Aired: 2019-07-21
Up against the clock, Morgan, Grace, and Alicia work to buy time as Dorie and Dwight race against the elements. Meanwhile, Sarah and Wendell get help from an unexpected source.(TD)
9: Channel 4 - Aired: 2019-08-11
The group, traveling in a convoy, doubles-down on their mission to find and help survivors.
10: 210 Words Per Minute - Aired: 2019-08-18
Morgan and Grace search a shopping mall to fulfill a dying man's wish; Dwight is tested.
11: You're Still Here - Aired: 2019-08-25
Alicia and Strand answer a call for help; Morgan and Al hit a roadblock.
12: Ner Tamid - Aired: 2019-09-01
In search of a permanent home, Charlie encounters a rabbi struggling to survive on his own.
13: Leave What You Don't - Aired: 2019-09-08
Logan's motives are revealed; Sarah and Dwight negotiate; a dangerous threat emerges.
14: Today and Tomorrow - Aired: 2019-09-15
A survivor sends Al and Morgan into a dangerous settlement where Al chases a lead.
15: Channel 5 - Aired: 2019-09-22
The group searches for a new home; concerned for Grace, Morgan makes a tough call.
16: End of the Line - Aired: 2019-09-29
Facing an unknown future, Morgan leads the group on a mission; John and June make a promise.