General Information
Glossary: B
First Air Date: September 29th, 2017
Last Air Date: October 5th, 2018
Created By: Jennifer Flackett, Mark Levin, Andy Goldberg, Nick Kroll
Star Casts: Nick Kroll, John Mulaney, Jessi Klein, Jason Mantzoukas, Jenny Slate, Fred Armisen, Jordan Peele, Maya Rudolph
Aired On: Netflix
Episode Runtime: 27 minutes
Total Seasons: 2 Seasons
Total Episodes: 20 Episodes
Type: Scripted
Status: Returning Series
Homepage: Netflix - Big Mouth

Last Updated: Fri, 09 Nov 2018 21:51:06 +0000
Sponsored Links
Ratings
User Rating:
Backdrops Gallery (20 Images)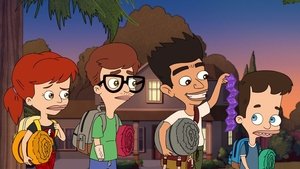 Big Mouth
Teenage friends find their lives upended by the wonders and horrors of puberty in this edgy comedy from real-life pals Nick Kroll and Andrew Goldberg.
Seasons and Episodes
Season 1 (10 Episodes)
1: Ejaculation - Aired: 2017-09-29
As Andrew falls under the spell of the randy Hormone Monster, his buddy Nick becomes obsessed with the lack of changes in his own body.
2: Everybody Bleeds - Aired: 2017-09-29
A field trip goes from awkward to mortifying as Jessi navigates the demands of coupledom and gets her first period -- inside the Statue of Liberty.
3: Am I Gay? - Aired: 2017-09-29
A trailer for a new movie starring The Rock leaves Andrew questioning his sexuality. Jessi and Nick's budding romance turns ugly fast.
4: Sleepover: A Harrowing Ordeal of Emotional... - Aired: 2017-09-29
While the boys head to Jay's for a testosterone-fueled sleepover, Jessi throws a party of her own and gets caught up in mean-girl drama.
5: Girls Are Horny Too - Aired: 2017-09-29
A steamy novel making the rounds at school inspires Jessi to explore her own sexuality -- and leaves the boys totally confused about what girls want.
6: Pillow Talk - Aired: 2017-09-29
Nick drags Andrew into the city to visit an old camp crush, but the day doesn't go as planned. Jay embarks on an emotional journey with his pillow.
7: Requiem for a Wet Dream - Aired: 2017-09-29
ndrew struggles to keep the Hormone Monster in check as he works with Missy on a science fair project. Jessi and Matthew have fun at Jay's expense.
8: The Head Push - Aired: 2017-09-29
When Leah hosts a party for the high school drama crowd, Nick wrestles with a romantic dilemma, and Andrew and Missy witness a disturbing scene.
9: I Survived Jessi's Bat Mitzvah - Aired: 2017-09-29
Family blowups, secret liaisons and an unflattering dress make Jessi's bat mitzvah a night to remember.
10: The Pornscape - Aired: 2017-09-29
Andrew tries to drown his sorrows in a sea of porn, only to become hopelessly addicted. Coach Steve becomes a suspect in a murder spree.
Season 2 (10 Episodes)
1: Am I Normal? - Aired: 2018-10-05
Andrew struggles to blend in after a growth spurt, Nick worries his hormones are out of whack, and Jessi and Jay get a taste of the teen runaway life.
2: What Is It About Boobs? - Aired: 2018-10-05
A classmate's booming bosom sends the boys into a rapture -- and leaves the girls with a raging case of insecurity. Coach Steve drops a bombshell.
3: The Shame Wizard - Aired: 2018-10-05
As Nick tries to figure out whether he has a shot with Gina, a mortifying encounter with Leah sends Andrew into a spiral of shame.
4: Steve the Virgin - Aired: 2018-10-05
Coach Steve finally gets his chance to do sex on a lady, Nick and Andrew go on a double date, and Jessi's rebellious streak leads to big trouble.
5: The Planned Parenthood Show - Aired: 2018-10-05
An argument in sex ed class turns into a skit-tastic journey through the worlds of Planned Parenthood, contraceptives and STDs.
6: Drug Buddies - Aired: 2018-10-05
Jessi and Nick dip into her dad's stash of edibles, with mind-bending results. Andrew searches for the right moment to break up with Lola.
7: Guy Town - Aired: 2018-10-05
While helping Greg move into a seedy bachelor complex, the boys and their dads debate what women want -- and what it means to be a man.
8: Dark Side of the Boob - Aired: 2018-10-05
A school sleepover turns messy as Nick dishes on a makeout session and the Shame Wizard works his miserable magic on the whole class.
9: Smooch or Share - Aired: 2018-10-05
Nick tries to lighten the mood at the sleepover with a new twist on Truth or Dare. The Shame Wizard meets his match. Jessi vows to change her ways.
10: The Department of Puberty - Aired: 2018-10-05
After traveling through a magic portal to puberty headquarters, Nick seeks out a new Hormone Monster and Jessi bonds with the Depression Kitty.