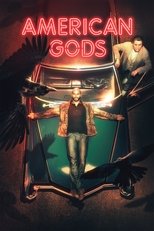 General Information
Glossary: A
First Air Date: April 30th, 2017
Last Air Date: April 28th, 2019
Created By: Michael Green, Bryan Fuller
Star Casts: Ricky Whittle, Ian McShane, Emily Browning, Pablo Schreiber, Bruce Langley, Yetide Badaki
Aired On: Starz
Episode Runtime: 60 minutes
Total Seasons: 2 Seasons
Total Episodes: 16 Episodes
Type: Scripted
Status: Returning Series
Homepage: Starz - American Gods

Last Updated: Fri, 24 Jan 2020 10:30:27 +0000
Sponsored Links
Ratings
User Rating:
Backdrops Gallery (32 Images)
American Gods
An ex-con becomes the traveling partner of a conman who turns out to be one of the older gods trying to recruit troops to battle the upstart deities. Based on Neil Gaiman's fantasy novel.
Seasons and Episodes
Specials (1 Episode)
1: Episode 1
No overview available.
Season 1 (8 Episodes)
1: The Bone Orchard - Aired: 2017-04-30
When Shadow Moon is released from prison early after the death of his wife, he meets Mr. Wednesday and is recruited as his bodyguard. Shadow discovers that this may be more than he bargained for.
2: The Secret of Spoons - Aired: 2017-05-07
As Mr. Wednesday begins recruitment for the coming battle, Shadow Moon travels with him to Chicago and agrees to a very high stakes game of checkers with the old Slavic god, Czernobog.
3: Head Full of Snow - Aired: 2017-05-14
Shadow questions the terms of his employment when Mr. Wednesday informs him of his plan to rob a bank (because, naturally, every army needs a source of funding). And just when Shadow thought his life couldn't get any more complicated, he returns to his motel room to a surprising discovery.
4: Git Gone - Aired: 2017-05-21
Alternating between the past and the present, Laura's life and death are explored—how she met Shadow, how she died, and how exactly she came to be sitting on the edge of his motel room bed.
5: Lemon Scented You - Aired: 2017-05-28
Trying to work things out with his dead and unfaithful wife, Shadow's emotional reunion is interrupted when he and Mr. Wednesday are kidnapped by the New Gods.
6: A Murder of Gods - Aired: 2017-06-04
On the run after the New Gods' show of force, Shadow and Mr. Wednesday seek safe haven with one of Mr. Wednesday's oldest friends, Vulcan, God of the Fire and the Forge.
7: A Prayer for Mad Sweeney - Aired: 2017-06-11
Her brief reunion with Shadow over far too quickly, Laura turns to an unlikely travel companion to find her way back to life, and back to Shadow. Mad Sweeney's long, winding, and often tragic past is explored.
8: Come to Jesus - Aired: 2017-06-18
On the eve of war, Mr. Wednesday must recruit one more Old God: Ostara, ne Easter, Goddess of the Dawn, but winning her over will require making a good impression, and that is where Mr. Nancy comes in.
Season 2 (8 Episodes)
1: House on the Rock - Aired: 2019-03-10
Following the epic showdown at Easter's party, Mr. Wednesday continues his quest to pitch the case for war to the Old Gods. Meanwhile, Mr. World plans revenge and Technical Boy goes on the hunt for Media.
2: The Beguiling Man - Aired: 2019-03-17
Promising vengeance for the death of a beloved old god, Mr. Wednesday begins preparation for a great battle. Meanwhile Laura and Mad Sweeney chase Shadow's diminishing light after his disappears. The Jinn and Salim set out to retrieve the Gungnir spear, and Shadow encounters an associate of Mr. World.
3: Muninn - Aired: 2019-03-24
As he is tracked by Mr. World, Shadow makes his way to Cairo, thanks to a ride from Sam Black Crow. Mr. Wednesday slyly gains Laura's help in forging an alliance with a powerful god. Mr. World introduces Technical Boy to New Media and assigns them a very important task.
4: The Greatest Story Ever Told - Aired: 2019-03-31
While Shadow and Mr. Wednesday take a secret meeting in St. Louis, Bilquis arrives at the funeral home in Cairo, where she engages in a debate with Mr. Nancy and Mr. Ibis. Laura rejoins Mad Sweeney, and Tech Boy pays a visit to his first worshipper.
5: The Ways of the Dead - Aired: 2019-04-07
Shadow learns the ways of the dead with the help of Mr. Ibis and Mr. Nancy. In New Orleans, Mad Sweeney introduces Laura to old friends who share their world of voodoo healing. Mr. Wednesday embarks on a road trip with Salim and the Jinn.
6: Donar the Great - Aired: 2019-04-14
Shadow and Mr. Wednesday seek out Dvalin to repair the Gungnir spear. But before the dwarf is able to etch the runes of war, he requires a powerful artifact in exchange. On the journey, Wednesday tells Shadow the story of Donar the Great.
7: Treasure of the Sun - Aired: 2019-04-21
In Cairo, Mr. Wednesday entrusts Shadow with the Gungnir spear. Mad Sweeney recalls his journey through the ages as he awaits his promised battle. Once again, he warns Shadow about Wednesday. Meanwhile, Laura receives sage advice from Mama-Ji.
8: Moon Shadow - Aired: 2019-04-28
Shadow is tormented by recent events and Wednesday has disappeared. Those that remain witness the power of New Media as she is unleashed, and the nation is enveloped in a state of panic brought on by Mr. World.